Russia set for $75 billion surplus – Bloomberg
Recovering oil exports have boosted cash inflows, data shows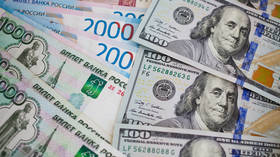 Russia's current account surplus has increased sharply, propping up the national currency as energy exports recovered despite pressure from Western sanctions, the country's central bank reported on Tuesday.
The current account, which measures the difference between money coming into the country through trade, investment and transfers against outflowing funds, amounted to $53.8 billion for the first ten months of the year, the regulator's data showed.
The October surplus exceeded $11 billion for the second consecutive month after reaching its highest level this year in September. The central bank revised its current account projection for the full year up from $45 billion to $60 billion on the back of soaring oil prices.
Moscow's proceeds from oil and gas sales surged to their highest level in one-and-a-half years, reaching $17.7 billion last month despite forecasts of a vast deficit.
"Fresh data shows Russia continues to benefit from high commodity export revenue. We expect Russia will post another $20 billion of current account surplus in the remaining two months of 2023, bringing the overall external balance to around $75 billion," Bloomberg's Russia economist Alex Isakov predicted.
"Growing export revenue helped stop the ruble rout, but in the coming months Russia's currency may be tested as the government rebuilds its FX [foreign exchange] reserves beginning in January," he added.
This comes after Moscow rerouted the bulk of its trade flows eastwards after Western sanctions largely disrupted supply chains in European markets.
Russian authorities reimposed some capital controls requiring exporters, including major oil producers, to sell their earnings from foreign trade on the domestic market in order to secure foreign currency inflows.
The measure helped provide support to the ruble, which gained around 5% against the US dollar in October. The currency continued to strengthen this week to below 89 against the greenback for the first time since late July.
For more stories on economy & finance visit RT's business section
You can share this story on social media: