Pentagon using 'banned' Russian oil – WaPo
Forbidden petroleum products have continued to flow to the US military through a Greek refinery, the outlet says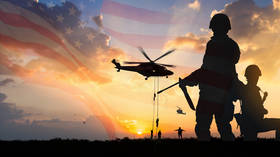 The Pentagon is bypassing Washington's own sanctions against Russia as it continues to buy petroleum products made from its oil, which takes a circuitous route to a US military supplier despite an ongoing embargo, a Washington Post investigation revealed on Tuesday.
Petroleum products made from Russian oil have continued to flow via a key Pentagon fuel supplier, the Motor Oil Hellas refinery on the Aegean Sea in Greece. The vital fuel is sent from Russian Black Sea ports through an oil storage facility in Türkiye, the outlet said, citing ship-tracking data.
The route reportedly helped disguise the Russian origin of the oil products, as they "changed hands multiple times before they reached Greece."
On paper, the Motor Oil Hellas refinery sourced fuel from the Dortyol shipping terminal in Türkiye.
Ship-tracking records and trade data revealed that since the EU and G7 sanctions on Russian petroleum products took effect this past February, Russian deliveries to Dortyol have totaled 2.7 million barrels, or more than 69% of the fuel oil shipped by sea.
"I don't see any other possible conclusion than Russian fuel is going to Motor Oil Hellas," said Robert Auers, a refined fuels market analyst at the research firm RBN Energy, who confirmed WaPo's findings.
At least five shipments from Russia to the Dortyol terminal this year were initially sent by Russian oil major Rosneft, according to the outlet. After being loaded onto tankers, each cargo was then purchased by a firm based in the United Arab Emirates, trading data showed.
The fuel is no longer marked as Russian when it arrives in Greece, where it is being refined and mixed into a supply purchased by the US military.
"The precise amount of Russian-origin fuel oil in the products the Pentagon purchases could not be determined. Those products are refined using multiple ingredients that cannot all be tracked through production," the Washington Post noted.
Since the US embargo on Russian oil took effect in early March 2022, the Pentagon has inked nearly $1 billion worth of new contracts with Motor Oil Hellas, the outlet said, citing federal contracting data.
More than a million barrels of jet fuel have also been shipped from the Greek refinery to government and corporate buyers in Italy, France, Spain and the UK since the ban on Russian oil products was imposed in February, ship tracking records show.
For more stories on economy & finance visit RT's business section
You can share this story on social media: