Russian businesses reaping benefits from Western exodus – Bloomberg
Multinational companies have sold assets worth over $21 billion, the outlet has said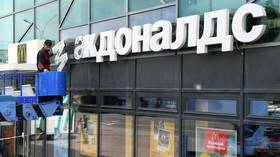 Russian businesses are rapidly filling the void left by international companies, and are benefiting by snapping up the assets of departing Western firms at discounted prices, Bloomberg reported earlier this week.
US fast food giant McDonald's, packaging group Ball, and chemicals manufacturer Henkel are just a few of the companies to have left Russia due to intense international pressure from sanctions and their own investors after Moscow launched its military operation in Ukraine.
Western firms sold businesses in Russia worth at least $21 billion in 2022 and the first half of this year, according to an estimate from the AK&M news and research agency.
Russia's new cohort of entrepreneurs is little known outside the country and they have not been placed on US or EU sanctions lists, the outlet said.
One example given was Aleksey Sagal's Arnest Group, which focused on cosmetics and household goods before buying Ball's Russia-based beverage packaging business for $530 million last September. The group then acquired 100% of the shares in the Russian assets of the world's second-largest brewer, Heineken, for a symbolic €1 in August this year.
Aleksandr Govor, whose wealth stems from the coal business, took over McDonald's in Russia after the US giant opted to leave the market. Rebranding the chain as 'Vkusno i Tochka', which roughly translates as 'Just Tasty', Govor bought all 850 Russian outlets from its former franchise, taking a major step from previously operating just 25 restaurants.
In June, the rebranded fast food chain reported that it had outperformed the original, registering more than 500 million visits over the past year, according to its new owner.
Some well-known businessmen have also benefited from the exodus of Western firms. Russia's richest man, Vladimir Potanin, who owns mining giant Norilsk Nickel, bought Rosbank from the French banking group Societe Generale last year. The billionaire was personally sanctioned by the US and the UK in December 2022.
The departure of multinational companies was intended to weaken the Russian economy, but according to some experts in reality it has played into the hands of the new wave of businessmen, particularly since Moscow has ruled out an easy exit for Western firms.
Under existing laws that regulate divestment procedures, firms leaving Russia are obligated to sell their assets at a 50% discount. They also need to obtain government permission for the sale and pay a mandatory contribution to the Russian budget, amounting to at least 10% of half the market value of the company's assets in the country.
For more stories on economy & finance visit RT's business section
You can share this story on social media: