Russia and China are 'engine' of new world order – Junge Welt editor-in-chief
The two countries' growing cooperation with the Global South is challenging the Western-dominated economic system, Stefan Huth has told RT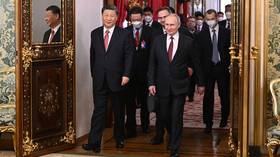 A new global order is in the making with a radical change in international politics and economic relations, Stefan Huth, editor-in-chief of German daily Junge Welt, told RT on the sidelines of the Valdai Discussion Club in Sochi.
According to Huth, the process is also identified by the Global South's growing international cooperation, as African countries aim to redefine their role in the shifting landscape.
"In particular, African countries are concerned because they really suffered hundreds of years of colonization, and now they have the chance to sort of set their goals in a new way, find new partners, and establish new terms of trade," he stated.
"And I think that Russia and China are sort of the engine of this process. What we witness in Africa, and sub-Saharan Africa in particular, is quite amazing. A new world order is evolving under our eyes," Huth added.
Asked about the European Union's role in the emerging new global order, Huth replied that it is "riding on two tracks." On one hand, "they are trying to take advantage from the situation," but on the other hand the bloc is clinging to the old Western-dominated sphere and its financial system, he claimed.
"They stick more to the old world order, I think, and are opposed to the emerging new economies, which is quite striking in a way because of quite a few contradictions that go along with it," Huth emphasized.
For more stories on economy & finance visit RT's business section
You can share this story on social media: