Ukraine could reap $200 billion EU bonanza – FT
Kiev would be entitled to the funds upon its accession to the bloc, according to the newspaper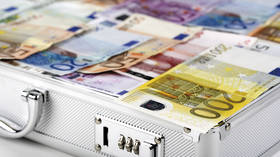 Ukraine could receive billions of euros in subsidies from the EU upon the country's accession to the bloc, the Financial Times reported on Wednesday, citing an internal study by the secretariat of the EU Council.
According to the report, Kiev would be entitled to €96.5 billion ($101 billion) in payments from the EU's Common Agricultural Policy. Ukraine would also be eligible for €61 billion ($64 billion) in subsidies from the EU's cohesion funds, dedicated to improving infrastructure in poorer member states. In total, the bloc may have to allocate roughly €186 billion ($195 billion) for Ukraine in the seven years following its entry.
The paper notes that this would greatly affect the EU's agricultural subsidy regime. According to calculations, Ukraine has 41.1 million hectares of utilized agricultural area, and would become the bloc's largest recipient of subsidies. This would force a cut in payments for existing recipients by some 20.3% per 1 hectare of farmland. Experts say the changes may be too high a price to admit Ukraine as a member, unless adjustments are made to the EU budget.
"These numbers aren't going to work for anyone. They make clear that root and branch reform of the EU budget and its major policies will be needed if Ukraine is to ever join, or that the entire Ukraine question will have to be dealt with innovatively and outside of existing EU budget structures," Mujtaba Rahman, managing director for Europe at the Eurasia Group, told the news outlet.
The EU Council based its study on the bloc simultaneously accepting nine additional members: Ukraine, Moldova, Georgia, and six western Balkan states. According to the analysis, the cost of adding them all to the EU's existing budget would amount to roughly €256.8 billion ($269 billion). The study warned that the entry of new members would cause a drastic redistribution of funds within the union. For instance, the Czech Republic, Estonia, Lithuania, Slovenia, Cyprus, and Malta would no longer be eligible for cohesion funding.
"All member states will have to pay more to and receive less from the EU budget; many member states who are currently net receivers will become net contributors," the document stated. It added that "whilst for several policies, opportunities may outweigh the costs/risks," the enlargement would bring "very significant challenges" for the EU budget, which would need to be addressed as soon as possible.
According to reports, the EU is ready to start membership negotiations with Ukraine, which could be announced by the end of the year. The head of the European Council, Charles Michel, earlier stated that Ukraine could become a member of the bloc by 2030.
For more stories on economy & finance visit RT's business section
You can share this story on social media: