Russian industrial production falls for fourth straight month
Ban on fuel exports and a drop in lending have been weighing on output, media report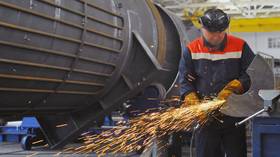 Industrial production in Russia declined in August for the fourth month in a row, despite the strong performance of the country's defense-related enterprises, the daily Nezavisimaya Gazeta reported on Sunday, citing official statistics from Rosstat, and economists.
According to the report, production had started to slow even before the sharp depreciation of the ruble in July and the ensuing key-interest-rate hike by the central bank.
In August, the country's output level decreased by 0.9% in monthly terms, according to an estimate by the Center for Macroeconomic Analysis and Short-Term Forecasting (CAMAC). Overall, in the period January to August industrial growth amounted to less than 1% thanks to a strong first quarter, CAMAC calculates.
The Gazeta report indicated that the slowdown in growth is associated with tightening export (and partly import) restrictions as well as a deterioration in credit lending to enterprises. The growing output of Russia's defense sector has not yet compensated for the general slowdown in its industry, the newspaper suggests. The previous slight easing of export restrictions reportedly ensured output expansion in July, primarily in oil refining, metallurgy and chemistry, as well as in the production of vehicles. In August, growth in all these sectors either stopped or weakened significantly, economists told the paper.
The recent temporary ban on the export of refined petroleum products will also negatively affect industrial production volumes, the head of the country's Energy Ministry Nikolay Shulginov has warned. The Russian government introduced a temporary halt on sales abroad of diesel and gasoline this month, in order to stabilize the domestic fuel market.
For more stories on economy & finance visit RT's business section
You can share this story on social media: