Billionaire issues dire warning for US economy
The country's growth is at risk of falling to zero, Ray Dalio claims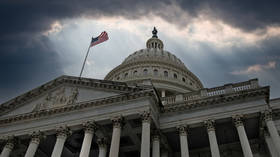 A US debt crisis is looming as the American economy is facing a "risky" fiscal situation, according to the founder of the world's largest hedge fund, Bridgewater Associates, Ray Dalio.
Dalio's warning comes as the country's national debt topped $33 trillion this month. US lawmakers are currently negotiating a spending bill before the October 1 deadline.
"We're going to have a debt crisis in this country," Dalio told CNBC in an interview that aired Thursday. "How fast it transpires, I think, is going to be a function of that supply-demand issue, so I'm watching that very closely."
According to the US Treasury Department, the country's debt levels have skyrocketed in recent years, particularly after a roughly 50% jump in federal spending between fiscal 2019 and fiscal 2021. Investors have been raising concerns that interest rates may continue rising as the situation worsens.
Dalio has cautioned there could be more headwinds hitting the economy than just high debt levels, with the risk that growth may fall to zero. "I think you're going to get a meaningful slowing of the economy," the billionaire warned.
The US averted a historic default earlier this year after President Joe Biden signed a bill suspending Washington's $31.4 trillion debt limit just two days before the deadline in June. The debt ceiling was lifted through January 1, 2025.
However, the fact that the US was close to failing on its massive debt could hurt the country's fiscal reputation, analysts have signaled.
In August, rating agency Fitch slashed the USA's credit rating, citing fiscal deterioration over the next three years and repeated debt-ceiling talks. Earlier this week, rating agency Moody's warned that a possible government shutdown on October 1 would put pressure on the country's credit rating.
For more stories on economy & finance visit RT's business section
You can share this story on social media: