South American country boasts world's fastest-growing economy
Guyana's GDP is expected to surge about 115% in the next five years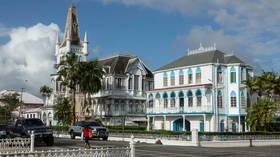 Guyana's economy is on track to more than double by 2028, on the back of high profits from oil production and the export sector, CNBC reported this week, citing expert analysis.
Sandwiched between Venezuela and Suriname, the former British colony with a population of about 800,000 people is projected to grow at an "extremely fast" pace, rising 38% by the end of this year, according to recent forecasts by the International Monetary Fund (IMF). Guyana recorded the highest GDP growth in the world last year, at 62.3%, the IMF statistics showed.
Fitch Solutions research unit BMI has echoed the IMF forecast, claiming that "Guyana will see explosive growth this year."
BMI's head of Latin America country risk, Andrew Trahan, expects real GDP in Guyana to rise about 115% in the next five years. "The exact magnitude of the increase [is] dependent on how quickly additional oil production is brought online," he said, as quoted by CNBC.
According to BMI estimates, oil production in Guyana is expected to jump from around 390,000 barrels per day this year to over a million barrels per day by 2027 due to the discovery of new offshore fields in the country's Stabroek Block.
"Guyana's robust growth has been, and will continue to be, driven by a rapid expansion of oil production following a series of discoveries in recent years," Trahan said, noting that higher oil production will bolster Guyana's net exports. He believes the country will be the fastest-growing economy in the world in 2023 again, and will retain the title for at least the next two years.
The report highlighted that Guyana's non-oil sector has also been growing thanks to investment in transportation, housing, and raising human capital. According to the IMF, the country's agriculture, mining, and quarrying sectors were also performing well.
Some experts, however, have warned that the South American nation is facing certain risks that could hinder growth.
Guyana has moved rapidly from being one of the poorest Caribbean countries to an economy "showing exceptional growth," Valerie Marcel, an associate fellow at think tank Chatham House, told CNBC.
"Over time, oil prices will be quite volatile and eventually stay low. That's why it's extremely important for Guyana to diversify its economy," Marcel insisted.
For more stories on economy & finance visit RT's business section
You can share this story on social media: