Hungary warns EU against ditching Russian energy
Budapest is heavily reliant on Moscow for its oil and gas imports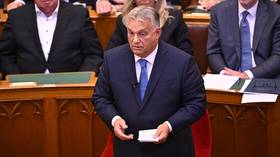 Rejecting Russian energy supplies isn't in the interests of the EU countries, Hungarian Prime Minister Viktor Orban said on Monday while addressing parliament.
According to Orban, Hungary is helpless when it comes to resisting decisions made by the EU authorities on the import of Russian oil and gas.
"Brussels has decided that the EU should abandon Russian energy resources," he said. "In my opinion, this is contrary to the interests of the bloc, and the interests of Hungary as well, but we do not have enough power to counteract this."
The prime minister added that the Hungarian government is only able to reduce the negative consequences of these decisions for Budapest.
Hungary, which is around 85% dependent on Russian gas, has repeatedly criticized the EU over its sanctions policy. Budapest has strongly opposed calls to introduce restrictions on Russian gas imports and has also vowed to oppose any curbs on Russia's nuclear energy industry.
The EU has banned imports of Russian seaborne oil since the beginning of the Ukraine conflict and drastically reduced shipments of pipeline gas from Moscow. The bloc has also adopted the Western price limit on Russian seaborne crude of $60 per barrel.
Orban managed to secure an exemption from the bloc's sanctions on Russian crude oil imports. He has insisted that Budapest supports a swift resolution to the conflict, but noted that it wants to maintain economic relations with Russia, particularly in energy.
For more stories on economy & finance visit RT's business section
You can share this story on social media: