Ukraine offers Poland grain supply compromise
Warsaw had previously extended its embargo on Ukrainian grain despite the EU lifting the restriction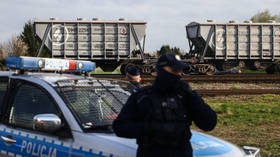 Ukraine and Poland could reach a compromise solution to allow grain transit through the EU nation, Kiev's deputy economy minister and trade representative said on Sunday in an interview with the Polish news agency Onet.
According to Taras Kachka, the grain shipments could be carried out "manually" by coordinating each commercial batch of Ukrainian agricultural produce with the Polish authorities before crossing the border.
"Under the propped mechanism, Ukrainian exporters would be obliged to submit a request to the local ministry of economy that, in its turn, would get in contact with colleagues in Poland to assess whether the batch is acceptable in terms of price, size and potential buyers," the deputy minister explained.
Earlier this month, Poland, along with Hungary and Slovakia, decided to disregard an EU decision to lift the embargo on Ukrainian grain. Warsaw said the move was needed to protect local farmers and prevent cheap Ukrainian agricultural produce from flooding the market, disrupting the sector.
Ukraine condemned the ban as "illegal" and filed a dispute with the World Trade Organization (WTO) against the three Eastern European countries. Kiev also threatened to halt imports of fruit and vegetables from Poland.
In May, the European Commission (EC) imposed "exceptional and temporary preventive measures on imports" of Ukrainian wheat, maize, rapeseed, and sunflower seed to five member states, including Poland, Hungary, Romania, Slovakia, and Bulgaria, to ease the impact of plummeting prices in the five EU countries.
The temporary moratorium, which allowed Ukrainian produce to be transported through member states but not sold or warehoused there, expired on September 15. Brussels opted not to extend the restriction despite concerns over a massive influx of cheap agricultural produce from Ukraine.
For more stories on economy & finance visit RT's business section
You can share this story on social media: