Fake euros widely accepted as payment in Kosovo – Reuters
Counterfeit currency has reportedly flooded the region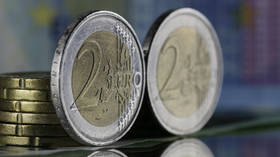 Baristas in Kosovo cafes have given up checking €2 coins for authenticity, as most of them are fake and the high quality of the counterfeits makes it almost impossible to distinguish them from genuine currency.
"At the beginning, everyone was worried and was checking if the €2 coins were fake or not," a Pristina cafe waiter told Reuters. He explained that retailers could test the coins by holding them up to the light or by dropping them on a surface to hear the sound they made.
"Now we don't check anymore ... we may be taking fake money or may be giving out fake money," he said. "It is all the same."
The quantity of fake €2 coins in circulation has increased dramatically this year, according to law enforcement agencies.
The euro is used in Kosovo and in neighboring Montenegro, even though they are not are not part of the Eurozone.
An unnamed shopkeeper told the news agency that six of the 11 €2 coins in her cash register turned out to be fake. She added that there were so many of them in circulation, she had no choice but to accept them.
More than 30,000 counterfeit €2 coins were examined by experts at the police forensic laboratory in Pristina during the first half of this year, compared to 4,451 in the corresponding period last year.
"Before, the fake coins were not magnetic and now they are, before they had issues with weight but now they match the genuine ones," Vjollca Mavriqi, an expert on counterfeit money at the lab, told the agency.
Last year, local police sent 804 cases related to money forgery to prosecutors, while 486 have been issued so far this year. In April, a man and a woman were arrested for trying to bring 10,600 fake €2 coins into Kosovo from North Macedonia.
For more stories on economy & finance visit RT's business section
You can share this story on social media: