Global warming could cause beer deficit, brewer claims
Warmer temperatures hurt barley and hop yields, the head of Asahi says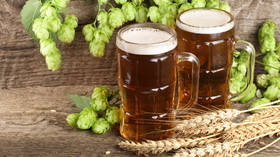 Climate change could cause beer shortages as warmer temperatures are hurting barley and hops yields worldwide, Atsushi Katsuki, the CEO of Japanese brewing company Asahi, has warned.
In an interview with the Financial Times published on Friday, he cited an analysis conducted by the company, which revealed that warmer temperatures would substantially reduce barley crops in major producing countries and damage the quality of hops in the next 30 years.
Asahi's chief executive said that France's spring barley harvest could slump by 18% by 2050, while Poland's harvest could shrink by 15% if the world warms by four degrees under the UN's worst-case scenario. He added that the Czech Republic, one of the world's largest hop producers, would face a 25% decline in the quality of this key ingredient for beer flavoring and preservation. This would lead to a global beer deficit, he claimed.
In a less extreme climate development, with warming below two degrees, barley harvests are projected to decline by 10% in France and 9% in Poland. At the same time, the quality of hops would decrease by 13% in the Czech Republic, according to Katsuki.
"Although with hotter weather the consumption of beer may grow and become an opportunity for us, climate change will have a serious impact," he told the FT. "There is a risk that we may not be able to produce enough beer."
According to him, global warming has impacted barley prices even more than the conflict in Ukraine.
Weather fluctuations have already hurt barley harvests in recent years, sending European malt and malting barley prices to record levels last year.
"That is why we're not just taking our own actions, but we also need to push harder, working with other members of the industry and the society at large… we have to all work together to mitigate the climate change risks," he urged.
Although barley prices have somewhat calmed, the cost of this year's crop was still $106 per ton above the average in previous years. Soaring prices are adding pressure on brewers, prompting them to invest in regenerative agriculture to make crops more resistant to extreme weather.
For more stories on economy & finance visit RT's business section
You can share this story on social media: