'Exceptional' Russian harvest lowers global wheat prices – FT
The country is expected to export nearly 50 million tons of the grain this year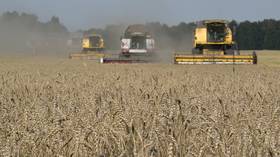 Wheat prices have declined to a three-year low due to an "exceptionally strong" yield in Russia, which is helping to fill the export gap left by the shortfall from Ukraine, the Financial Times reported on Thursday.
Prices have dropped by more than a fifth since the end of July as Russia's wheat export outlook has been upgraded by the US Department of Agriculture (USDA) to 48 million tons slated for foreign sales.
"We have seen wheat prices substantially decline basically as a result of Russia," said Michael Magdovitz, senior commodity analyst at Rabobank.
Ukraine's share in global wheat exports is expected to fall from 9.2% in the 2021-2022 agricultural year to 6.4% during the 2023-2024 harvest season, according to S&P estimates.
Meanwhile, Russia, already the world's largest exporter, is set to supply 22.5% of global exports in the current agricultural year, compared to 15.9% last year.
"Ukraine's loss has been Russia's gain," said Magdovitz.
According to estimates from S&P Global Commodity Insights, Moscow will export 47 million tons of wheat this year. However, chief agricultural economist at S&P Global, Paul Hughes, said he would not be surprised if it exports 50 million tons.
Traders expect that abundant supply from Russia will keep prices low, helping to offset shrinking yields in other major wheat-producing countries such as Argentina, Australia and Canada, where the current output has been downgraded.
Global wheat prices have more than halved since reaching a peak of $13 per bushel following the outbreak of hostilities in Ukraine last year. Wheat futures were near $5.9 per bushel in mid-September, hovering close to the lowest level in nearly three years.
While market players expect lower wheat prices to persist, economists also warn that an escalation of tensions between Ukraine and Russia in the Black Sea region could trigger a new spike at a time when inflation is fueling other agricultural commodities such as cocoa and coffee to multiyear highs.
For more stories on economy & finance visit RT's business section
You can share this story on social media: