Burger King accused of deliberate Whopper
The fast food chain's rivals, McDonald's and Wendy's, are facing similar legal challenges in the US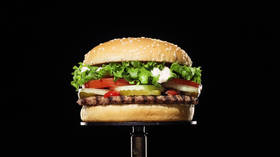 Burger King's bid to dismiss a lawsuit claiming that the US fast-food giant cheated its customers by making its Whopper burger appear larger on menus than it is in reality has been rejected by a judge in a Miami federal court.
The lawsuit, the latest in a series of false-advertising cases initiated by consumers against fast-food restaurant chains, accuses Burger King of presenting a misleading depiction of its Whopper burgers on in-store menu boards.
According to the claim, the restaurant chain shows the Whopper with a meatier patty and ingredients that "overflow over the bun," making it appear 35% larger with double the meat compared to the actual product.
Burger King, owned by Restaurant Brands International, claimed that it's not required to make burgers that look "exactly like the picture." However, US District Judge Roy Altman ruled that it was up to jurors to "tell us what reasonable people think."
At the same time, the judge dismissed claims that Burger King had misled customers with its TV and online advertisements.
"The plaintiffs' claims are false," a Burger King spokesperson said in a statement after the ruling. "The flame-grilled beef patties portrayed in our advertising are the same patties used in the millions of Whopper sandwiches we serve to guests nationwide."
Two other major US restaurant chains, McDonald's and Wendy's, are currently defending similar lawsuits in US federal court. Taco Bell, a unit of Yum Brands, was sued in July for selling Crunchwraps and Mexican pizzas that allegedly contain only half as much filling as advertised. Each lawsuit is seeking at least $5 million in damages.
For more stories on economy & finance visit RT's business section
You can share this story on social media: