Russian economy growing against all odds – Putin
The country has overtaken Germany as the world's fifth largest economy in terms of purchasing power parity (PPP), the president said, citing the World Bank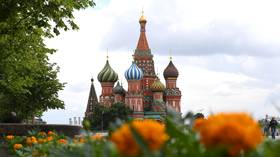 Russia moved into the world's top five largest economies in 2022 based on purchasing power parity (PPP), outpacing the likes of Germany despite Western sanctions and forecasts of a collapse, President Vladimir Putin said on Tuesday, citing a recent World Bank report.
According to estimates based on official country data published by the World Bank and the International Monetary Fund (IMF), Russia's gross domestic product was $5.51 trillion in PPP terms at the end of last year. The figure is 38% larger than the official estimate of $3.993 trillion, the report noted.
The figures also showed that the Russian economy was ahead of Germany's when measured in purchasing power parity, with the latter's GDP at $5 trillion.
Speaking at the Council for Strategic Development and National Projects, Putin noted the developments came "despite, frankly, the pessimistic forecasts that were made – and that are still sometimes are heard from some experts, primarily, of course, Western experts."
He stated that the rating indicating that Russia has overtaken Germany in terms of PPP is "very clear."
The IMF and World Bank both recently raised their forecasts for the Russian economy, saying that GDP would continue to grow despite sanctions, underpinned by strong trade and industrial production, as well as higher-than-expected energy revenues.
The Russian government has maintained a positive outlook for the economy. Prime Minister Mikhail Mishustin has predicted that by 2024, Russia will be primed to overtake developed countries in terms of economic growth.
For more stories on economy & finance visit RT's business section
You can share this story on social media: