Prof. Schlevogt's Compass № 1: How China's 'largest dark horse city' can show the way for the whole country
Amid the struggle to reignite growth post-Covid, the city of Hefei prospers thanks to its 'Six capital model'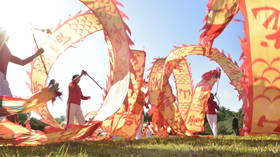 China's sputtering economic engine
China, known for routinely producing veritable economic miracles, seems to have lost its magic touch in recent times. After abruptly abandoning its strict zero-COVID policy – the toughest containment regime ever seen in human history – at the end of 2022, the much-expected rapid and robust economic revival has not yet occurred. Beset by structural industry-specific problems such as a debt crisis in the property sector (making up roughly a third of the economy) and a badly bruised IT sector (after a series of severe government clampdowns), its recent macroeconomic indicators are rather disappointing.
Overall, second quarter GDP increased by only 0.8% this year on a quarter-on-quarter basis. One key problem is weak aggregate demand in the world's second largest economy. To start with, consumption is held back by weak confidence of households that have been hard hit by the COVID-19 pandemic, but, in contrast to many Western countries, have not received generous rescue payments from their government. Besides, China suffers from a decrease in net exports (the difference between exports and imports). Year-on-year exports declined by 14.5% in July 2023 and imports fell by 12.4%. Investment and government expenditure do not act as strong alternative stimuli either. On the supply side, the dependency ratio (the sum of the non-working young and elderly population in relation to the working-age population) is worsening.
As a result of the interplay of aggregate demand and supply, China entered deflationary territory in July 2023, with the consumer price index declining by 0.3%.
Deflation increases debt burdens in real terms and increases the challenges for borrowers (such as the government and corporations) to repay their debt. Additionally, youth unemployment is very high, amounting to 21.3% within the age group of 16 to 24 years in urban areas in June of this year.
A beacon of hope: The Hefei model
In sharp contrast to the economic challenges at the national level, Hefei, the capital of China's Anhui province, rather surprisingly has recorded high growth rates in recent times and emerged as a globally important high-technology hub in the inland.
From 2012 to 2022, annual GDP on average rose by over 8% in a city of traditionally low national visibility, while disposable income consistently exceeded the national average for urban areas. With a GDP of 1.2 trillion Yuan in 2022, the latecomer has become a prestigious "trillion-Yuan city", scoring the sixth highest growth rate in this exclusive club of 24 urban agglomerations in China, where there are few representatives from inland provinces.
Apart from hosting the largest agglomeration of home appliance manufacturers in China, Hefei features an impressive portfolio of leading companies in high-potential industrial clusters, including the manufacturing of electrical vehicles (EV), display devices and semiconductors, as well as artificial intelligence. Furthermore, the "largest dark horse city" in China, whose success story is not as widely known as it deserves to be, has become a magnet for foreign direct investment. For example, Volkswagen AG announced in April of this year that it will invest one billion euro for the establishment of an innovation center in this southern city to better serve the Chinese market.
Hefei's success can be attributed to a range of distinctive success factors, especially a mix of smart strategic planning by the government and concerted action taken by agile corporate players in key transformative industries that will shape the future. Hefei's model showcases Chinese President Xi Jinping's vision of an "Industrial Revolution 4.0" in his country, aimed at moving from low-cost manufacturing to higher value-added economic activities.
More specifically, Hefei's success can be explained by what I call the "Six capital model" (see Figure 1), including the following interrelated, mutually reinforcing tangible and intangible factors:
Figure 1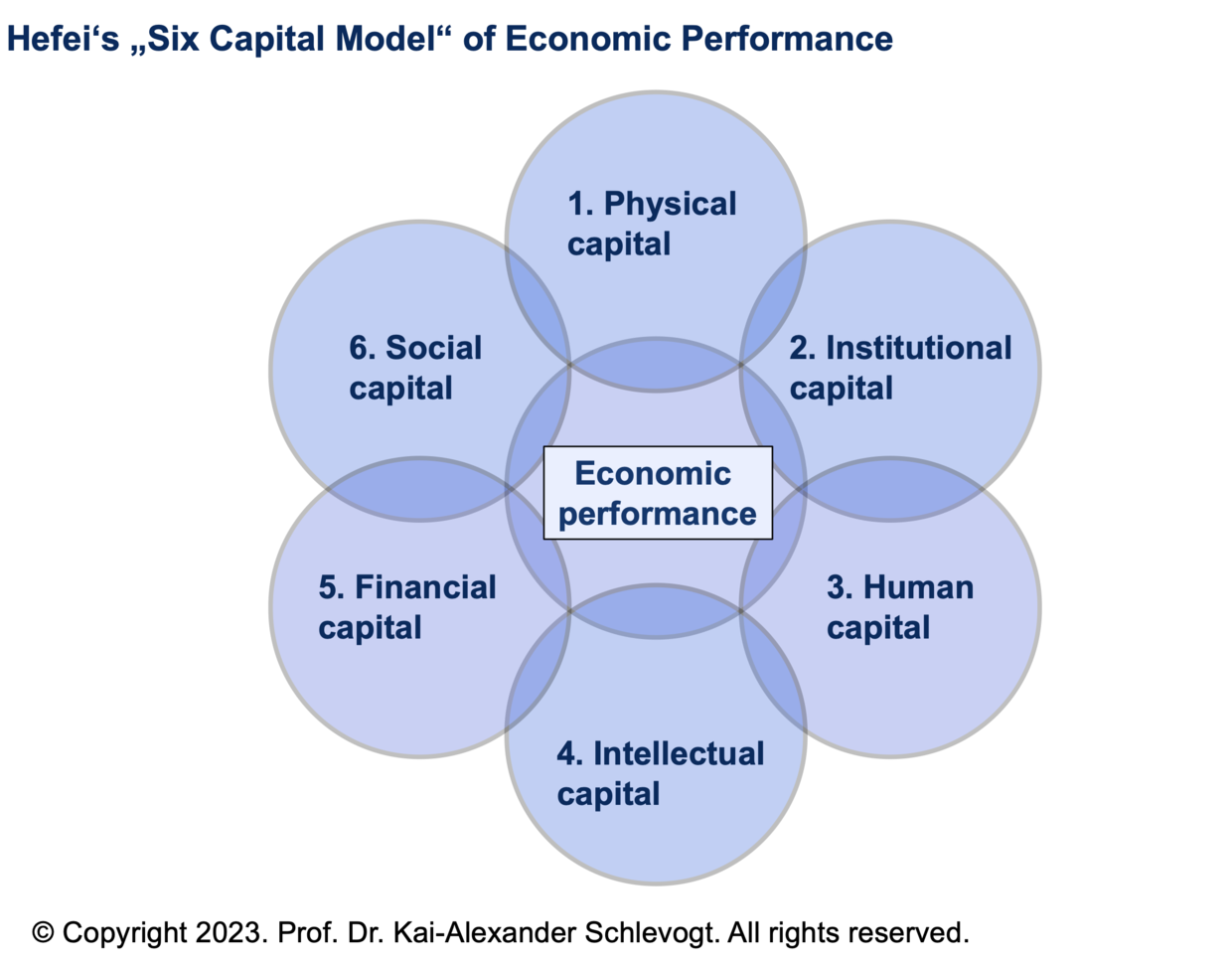 1. Physical capital: Optimal distance from Shanghai
After the start of China's Reform and Opening policy in 1978, the "Middle Kingdom" grew most rapidly along its southeastern seaboard. The hinterland, despite a subsequent concerted western development campaign, tended to lag behind the fast risers. In hindsight, the location of Hefei turned out to be optimal, though. It is sufficiently close to Shanghai to benefit from the dynamism of the so-called "Magic City" on the estuary of the Yangtze River, but far enough not to be weighed down by the juggernaut's complex politics and powerful bureaucracy.
2. Institutional capital: An elite university in an unlikely location
In most cases, China's top universities are based in top tier cities. Yet the prestigious University of Science and Technology of China (USTC), a public research and teaching institution known as "China's Caltech", moved to Hefei during the tumultuous Cultural Revolution. It has become a veritable catalyst for the establishment or attraction of other valuable institutional capital in the form of cutting-edge national scientific and technological research institutions of significant scale and other powerful organizations.
3. Human capital: Free exchange of talent in different occupations
The accumulated institutional capital has helped to develop and attract top talent in areas such as science, technology, engineering and business to Hefei.
To start with, government officials are often hired from the above-mentioned cutting-edge educational institutions and, after assuming office, work closely with them. This endows them with specialized and localized knowledge, helping them to make smart economic decisions. To increase motivation, the Hefei government has put in place a system of material and intangible incentives, including the promotion of those who have selected impactful projects and thus contributed to industrial development. As a consequence, there is a strong positive correlation between hierarchical level and competence. Incidentally, the following feature of the new 'multipolar world' is intriguing: On average, the strong (and steadily increasing) competence of key government personnel in high-growth markets such as China and Russia contrasts sharply with the comparatively weak (and decreasing) expertise of elected top officials in governments in the collective West. An example would be the significantly higher competence of Russian Foreign Minister Sergey Lavrov compared to his poorly qualified German counterpart Annalena Baerbock.
The sophisticated institutions in Hefei also helped develop and attract top-notch talent in academia and business. Importantly, a "revolving talent door" implies that there is a constant and free exchange between smart people in different spheres, especially between the government, business and academia, reinforcing mutual learning processes. As a result, government officials in Hefei oftentimes are veritable economic experts. Furthermore, industrial talent knows which levers to pull in the government to achieve desired results.
4. Intellectual capital: Smart strategies for industrial upgrading
In turn, the deep talent pool in Hefei has generated rich intellectual capital, including a steady stream of creative breakthroughs in basic and applied scientific research. At least equally important is the development of smart economic blueprints, structures, systems and processes by key strategic planners in government and business.
Building on the basic components of "New Structural Economics" (NSE), the strategy process tends to focus on identifying promising R&D projects and industries with high potential (including positive spillover effects). It aims at constantly upgrading the local industrial structure, leveraging both the latent factor endowment of the city and the energizing power of lofty aspirations, even when there are no latent factors and "leapfrogging" is necessary.
One key ingredient of such smart planning is the adoption of a holistic, systemic and dynamic view with respect to the development of industry clusters and the respective vertically integrated supply chains in their entirety. Hefei places a key emphasis on technological progress, achieved, among other things, by the government's support of basic research. The emerging interconnected ecosystems allow for strong spillover and snowballing effects, with new companies being attracted to existing clusters. In a process of constant upgrading, there is a move towards activities that create increasingly higher value. Often, leaders encapsulate the gist of a strategy in highly memorable, metaphorical combinations (usually consisting of four Chinese characters), such as "changing lanes and overtaking" and the visionary development concept of "leading enterprises – big projects – industrial chain – industrial agglomeration – industrial base". Importantly, while government officials have been changing, there has been remarkable continuity in strategic planning in Hefei.
With respect to the organizational design of ecosystems, Hefei adopts what I call an "industrial chain docking system" that relies on boundary-spanning human linchpins (see Figure 2). In fact, I consider this innovative arrangement, which is a veritable factory of invention and innovation, to be the center piece of the Hefei Model.
Figure 2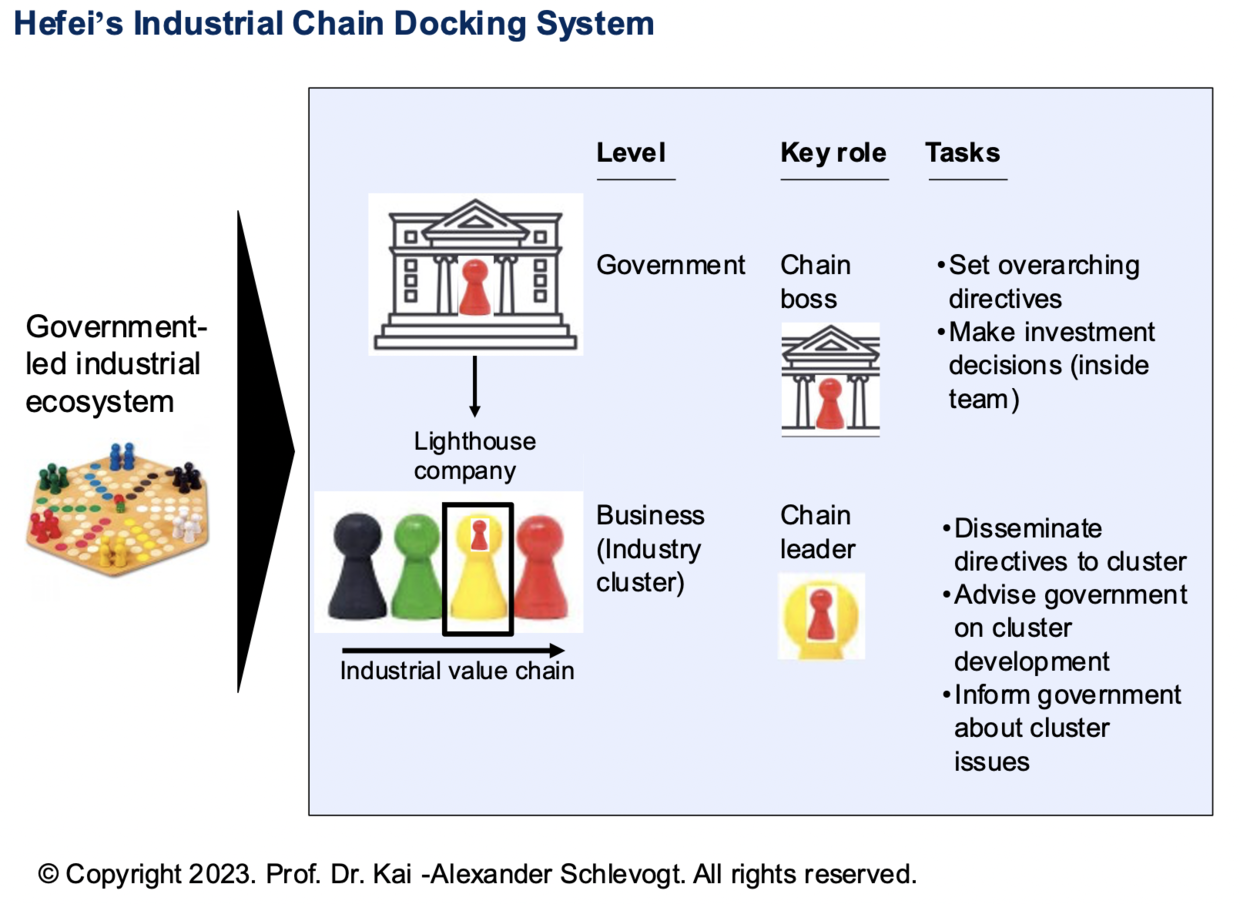 Forming part of a "chain length system," there are twelve prioritized industry clusters, each of which is headed by a key government official, such as the mayor or the local Communist party chief. He acts as a "chain boss," giving overarching directives to subordinate units. In particular, this key person communicates intensively with a lead company in a given cluster, which I call a "lighthouse company." The government chooses a "chain leader" inside this company, docked to the "chain boss" and jointly recommending concrete strategies for growing the cluster (including state investments and the admission of new members). The corporate chain leader, who leverages the collective wisdom of various stakeholders, also informs his "one stop shopping" government contact about burning issues inside the cluster, including the sourcing of critical inputs and occurrence of severe bottlenecks. To achieve a parallel and balanced development of several industries at the same time and thus speed up economic development, this dual linchpin structure is used across all the twelve prioritized clusters.
5. Financial capital: Government officials acting as venture capitalists
Based on the interactively developed smart strategic blueprints, the city government in Hefei, aided by "investment consultants" from industry (who, among other things, advise the government and perform due diligence), assumes the role of a venture capitalist and strategic equity investor. It acquires stakes in chosen companies and projects through various municipally-owned urban construction funds at multiple levels in the governmental hierarchy and, to reduce risk, actively engages in post-investment management. Solving a veritable investment puzzle, the government in this manner develops missing cluster elements, such as upstream or downstream companies in the value chain or key resources, and constantly upgrades the city's economic structure as a result. By taking well-considered risks and leading the way as an investor in pioneering firms operating in nascent industries, it also attracts other companies in the value chain of an emerging cluster. Interestingly, the city government delays other projects at times, such as infrastructure investments, to upgrade its industrial structure. Apart from early, small investments in emerging technologies, helping their developers on the "first mile," the city made daring decisions, involving significant commitments of funds, oftentimes defying conventional wisdom and mainstream opinions in a countercyclical manner. As a result of its tendency to place big and risky bets, sarcastic pundits labeled Hefei as China's true "gambling city" (instead of Macao).
In 2008, Hefei's Urban Construction Development Co Ltd., against all odds, decided to invest $5.2 billion in BOE Technology Group, which has since become one of the world's largest manufacturers of displays. In 2022, well-informed and intelligent government officials in Hefei invested $700 million (56% of the total liquid assets of the city government at that time) in the near bankrupt electric vehicle producer NIO, which moved its Chinese headquarters and some of its manufacturing to the city as a consequence. NIO achieved a dramatic recovery, currently supplying one third of China's luxury EVs. As a result of this risky bet, Hefei reaped a significant financial gain, amounting to 5.5 times its investment outlay.
Early on, the local government tends to design and implement smart exit strategies, too, selling stakes as soon as its investment mission has been accomplished. Instead of clinging onto profitable assets to fill the city's coffers with their financial proceeds, in this manner it allows the market to produce efficient outcomes as soon as key externalities (such the lack of investment in basic research) have been eliminated. The success achieved in the form of high sales receipts endows the government with a "right to grow." In a process of what I call "entrepreneurial bootstrapping," the city invests those funds in higher value-added activities, unleashing a virtuous circle of capital. For example, the proceeds from the city's successful investment in the electrical vehicle industry have been re-invested to further develop the integrated circuit cluster.
In some countries, government officials who fear punishment tend to be afraid of acting like dynamic entrepreneurs and taking even well-considered risks. In contrast, it is noteworthy that the fault tolerance in the Hefei government has successively increased and reached comparatively high levels, enabling state funds to make bold and risky decisions. For example, in 2022, the Municipal Seed Fund increased its fault tolerance rate to 50%. Being empowered by the highly motivating slogan "dare to make decisions and take responsibility," too, government officials in Hefei are given great strategic and operational latitude and freedom. Such a determined use of the principle of subsidiarity on the ground, which leverages the power of local competence, knowledge, and dynamism, contrasts with the fake caricature of China spread by Western liberals, who routinely accuse the country as being authoritarian.
6. Social capital: High trust inside intricate networks
In connection with the other components of the "Six capital" model, the government of Hefei has been able to accumulate great amounts of social capital embedded in highly developed, boundary-spanning relational networks – above all, deeply engrained entrepreneurship and trust from top to bottom and horizontally across the clusters. Due to strong path dependencies and causal ambiguity, it is especially difficult for competitors to replicate this particular form of invisible capital.
In Hefei, a strong entrepreneurial spirit pervades all stakeholders in a state-of-the-art agglomeration of dynamic clusters. This agglomeration in effect functions as one entity, which could be entitled "Hefei Inc." In addition, the high amount of trust in the intricate and robust networks facilitates the smooth flow of valuable information between government officials and other stakeholders, including industrialists and academics, in this highly diversified agglomeration. This, in turn, allows for smooth decision making by players at all organizational levels, such as the party committee, city government and fund management. The smooth flow of information also implies that there is constant and timely feedback with respect to the decisions taken, allowing for quick adaptation and adjustment if needed. As a consequence, a well-integrated "learning ecosystem" is emerging, which is led by "state entrepreneurs" and "state capitalists" who are veritable economic specialists and industry experts. The entire process of collaboration and sharing is captured by yet another memorable expression: "Up and down working together."
***
To sum up, the "Six capital model" of Hefei made it possible for a Chinese inland city with comparatively limited resources and low national visibility to become a key global player in a range of cutting-edge industries. Quite remarkably, this model mainly hinges on intangible factors, which in China – due to the previously pervasive "hardware mindset" – have been neglected for a long time.
Given the city's successful government-led transformation, the ingenious and innovative development model might function as a lighthouse for the Chinese ship of state, which needs to navigate in stormy waters, and governments in quest of growth around the world.
Prof. Schlevogt's next column will explore the key lessons of the "Hefei Model" for strategic planners wanting to stimulate rapid development elsewhere in China and around the globe.
You can share this story on social media: