China finds foreign source of drinking water
Kyrgyzstan has invited Beijing to tap into its plentiful glaciers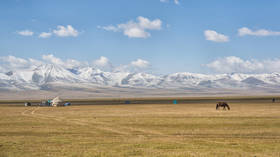 Kyrgyzstan is ready to export drinking water from its glaciers, Prime Minister Akylbek Zhaparov said during his visit to China this week.
He made the comment during his meeting with Wang Da, the chairman of Qingdao Laoshan Mineral Water Company, noting the unrealized potential of the country's water resources.
"We stand at the source of glaciers and are ready to export clear drinking water to China, European and Asian countries," Zhaparov said, adding that the country could greatly benefit from the experience of companies like Laoshan. The firm is a major Chinese manufacturer and distributor of drinks, producing bottled water, barrelled water, and soft drinks.
Wang Da expressed an interest in the prospect of importing water from Kyrgyzstan to China, and then on to European markets. Following the talks, the parties agreed to schedule further meetings to discuss the idea and draft an action plan.
China has long faced a water shortage crisis. According to Earth.org, the country is home to 20% of the global population but has access to only 6% of the world's freshwater resources.
Climate change and industrial pollution are also weighing on China's water supply. According to Chinese government data, the nation's total water use surged by 9% between 2000 and 2015, and wastewater emissions grew by more than 50%. In recent years, Beijing has launched a number of projects aiming to improve water distribution across the regions, and introduced water-saving measures including the "sponge city" project designed to collect and recycle rainwater.
Kyrgyzstan boasts more than 9,900 glaciers and eternal snows stretching over roughly 6,680 square kilometers, according to data based on satellite images from the United Nations Development Program. Glaciers make up about 3.3% of the total area of the country's territory and contain, by various estimations, around 600 billion cubic meters of water.
However, according to local media reports, the country also often faces water shortages due to inadequate water distribution and a lack of infrastructure, like technical water wells and drinking water reservoirs. Just last month, several neighborhoods in the capital Bishkek were subject to water rationing. Authorities claimed the problems were due to a particularly cool spring. Due to the cold temperatures, glaciers did not thaw in time, and water levels at the Orto-Alysh water well that supplies the city dropped to extremely low levels.
For more stories on economy & finance visit RT's business section
You can share this story on social media: