Bitcoin makes sudden sharp fall
The drop marks the largest plunge for the cryptocurrency so far this summer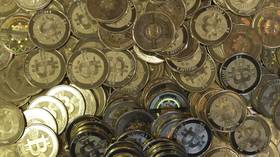 The price of Bitcoin saw a significant fall on Thursday, briefly dipping below $26,000 in an 8% single-day decrease. Similar losses were also recorded for other digital currencies, including Ether, reportedly leading to the liquidation of $1 billion in crypto.
After taking a 2% drop the day prior, Bitcoin tumbled to $25,409 at its lowest point on Thursday, reaching a two-month low before slightly recovering, CoinMarketCap reported. Ether and BinanceCoin also slid by several points, dropping by 6.5% and 6.4% respectively.
The fall for Bitcoin brought the currency's market cap to less than $500 billion for the first time since mid-June, while its value remains at the same level measured on June 20. An increase in volatility was also noted by crypto analyst Will Clemente, who said Thursday marked BTC's greatest single-day increase for implied volatility, a metric based on market forecasts of future price movements.
In the space of around 12 hours, investors liquidated some $1 billion in the most commonly used cryptocurrencies, according to figures gathered by CoinGlass, a crypto data analysis organization. In addition to Bitcoin, Ether and BinanceCoin, other popular e-currencies also saw major drops, with Doge and LiteCoin plummeting by more than 10%.
Despite the dip, however, Bitcoin remains up by some 60% for 2023, as the currency began the year at just over $16,500.
You can share this story on social media: