Ruble hits over 100 to US dollar
Presidential economic aide Maksim Oreshkin has said he expects the Russian currency to stabilize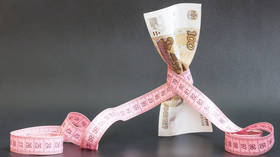 The Russian ruble has slumped to its lowest level versus the US dollar since March 2022, touching 101 against the American currency on Monday, despite rising export revenues and capital controls introduced by the central bank.
The ruble also weakened to 111 against the euro, a 16-month low.
The ruble hit a record low of 120 against the greenback in March of last year, before recovering to a more than seven-year high a few months later. So far this year, the ruble has weakened by nearly 25% versus the dollar.
Last week, the Bank of Russia announced plans to stop buying foreign currency on the domestic market under a budgetary mechanism deployed to protect the economy from volatile commodity prices.
Despite the sharp depreciation, President Vladimir Putin's economic adviser, Maksim Oreshkin, says he expects the ruble to stabilize.
"The current exchange rate has deviated significantly from fundamental levels, and its normalization is expected in the near future," Oreshkin was quoted as saying by TASS.
"A weak ruble complicates the economy's structural transformation and negatively affects the population's real incomes," he warned. "It is in the interests of the Russian economy to have a strong ruble."
The Bank of Russia and the Finance Ministry have previously blamed the ruble's slide on changes in the trade balance.
According to Oreshkin, the drop has occurred due to the regulator's monetary policy.
"The central bank has all the tools to normalize the situation in the near future and ensure that lending rates are reduced to sustainable levels," he said.
For more stories on economy & finance visit RT's business section
You can share this story on social media: