Domestic company worth more than EU state's entire GDP
A blockbuster weight-loss drug has sent Danish manufacturer Novo Nordisk's shares sky-high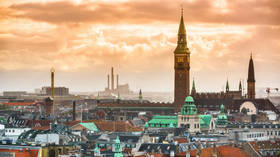 Danish healthcare company Novo Nordisk saw its shares skyrocket this week, pushing its market value above Denmark's GDP, according to trading data.
The drugmaker's shares surged as much as 19% on Tuesday, its largest intraday gain on record, following a report that its highly-popular obesity drug Wegovy cuts the risk of heart attacks and strokes. According to the study, people suffering from obesity who have heart issues were 20% less likely to suffer a cardiovascular event when taking Wegovy than those who took a placebo.
Following the stock price rally, the company's market capitalization jumped more than $60 billion to around $423 billion, which is more than the size of Denmark's entire domestic economy. The country's GDP amounted to $390.68 billion as of the end of 2022.
The rally also propelled Novo Nordisk to number two among the EU's largest companies in terms of value after French luxury products conglomerate LVMH, which is worth $442 billion.
Novo Nordisk, which originally specialized in diabetes products, has held the title of highest valued company in Denmark since 2008, when it overtook container-shipping giant A.P. Moller-Maersk. It has gained increased investor interest over the past three years after launching weight-loss drugs. The company's stock has tripled since 2020.
According to Bloomberg calculations, it is now worth more than all the other companies in the Danish benchmark index, the OMXC25, combined.
For more stories on economy & finance visit RT's business section
You can share this story on social media: