Russians ditching dollars – central bank
Around $450 million worth of foreign currency was converted into rubles last month, data shows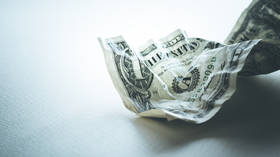 The drop in the ruble exchange rate against major foreign currencies has prompted many Russians to sell off their dollar and euro holdings, the Bank of Russia said in its monthly financial risks review published this week.
According to the regulator, after the Russian currency crossed 90 rubles to the dollar in early July, residents began to get rid of foreign currency, having sold $450 million worth during the month.
Most of the sales occurred in the first half of July. Overall, the ruble lost 2.3% against the dollar last month, according to the review.
"The pressure on the ruble continues to be exerted by the reduced foreign trade balance and low volumes of foreign currency earnings sales by exporters," the central bank said in the review. It noted, however, that the ruble's July weakening was insignificant compared to its 10.4% drop against the dollar at the end of June.
The ruble has been weakening against Western currencies for several months, with Russian Finance Minister Anton Siluanov attributing the trend to changes in the country's trade balance amid Western sanctions pressure and strong demand for foreign currency during the summer. In early June the dollar was valued at about 80-81 rubles, and by July it was worth about 89 rubles. It peaked on July 6, when the exchange rate exceeded 93 rubles to the dollar for the first time since March 2022. The trend continued this month, with the ruble crossing 98 to the dollar on August 9.
Meanwhile, the regulator said that the Russian exchange-traded currency market has continued to turn away from the "toxic" dollar and euro towards the currencies of friendly countries, or those that have not placed sanctions on Russia in connection with the conflict in Ukraine.
For instance, the share of the Chinese yuan on the market surged from 39.8% in June to 44.0% in July, which was a new record high for Russia, the bank said. The share of the euro and the dollar meanwhile dropped from 58.8% in June to 54.4% last month.
For more stories on economy & finance visit RT's business section
You can share this story on social media: