Putin urges launch of Russian industrial zone near Suez Canal
The project is aimed at expanding Russia's trade with Egypt, and Africa as a whole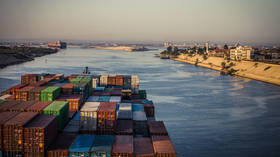 Russia is aiming to complete an industrial zone in Egypt, near the Suez Canal – one of the world's busiest transport hubs – in the near future, President Vladimir Putin said on Thursday.
"I spoke with my colleague yesterday, with President [Abdel Fattah] al-Sisi… I expect that construction will begin there already this year, the first production facilities, and in the future, goods produced there will be exported throughout Africa," Putin told a plenary session of the Russia-Africa Economic and Humanitarian Forum in St. Petersburg.
Putin stressed the importance of closer industrial cooperation between Moscow and African states. "Our industrial products, including cars, construction equipment, etc., are widely known on the continent and are in great demand. They are distinguished by good quality, reliability and ease of operation."
The president noted that there are specialised service centers in Africa for servicing Russian equipment, and that "new tools are being developed lending to African purchases of our industrial products, their transportation to the continent and after-sales service."
Plans for a Russian industrial zone in Egypt were approved in 2014. It will consist of two sites – one on the Red Sea coast, in the Ain Sokhna area, and the second at Port Said, at the northern end of the Suez Canal. The two sites will cover 525 hectares, and include transport and port infrastructure.
The industrial park will have a low-tax regime for resident Russian firms, and is expected to provide tens of thousands of jobs. The tax rate for businesses involved in the project, and personal income tax, will be fixed at 10%. Sales tax will be abolished.
Also in 2014, Cairo announced plans to modernize the Suez Canal, with a wide range of services, as well as several industrial parks, including Russian, Chinese, and Italian areas.
For more stories on economy & finance visit RT's business section
You can share this story on social media: