Robert Kiyosaki predicts US stock market crash
The finance guru earlier warned that hiking interest rates to battle inflation may have a negative effect on stocks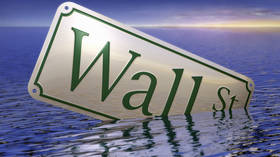 Renowned writer and economist Robert Kiyosaki warned investors of a stock market downturn in a tweet this week.
According to Kiyosaki, there are "too many signs" that spell a crash in the market in the near future.
"Yet too many signs point to a severe stock market crash… If your future depends on stocks and bonds please be careful, possibly ask for professional advice. Afraid depression coming," he tweeted.
Kiyosaki, who predicted the collapse of Lehman Brothers in 2008, said he does not play the stock or bond markets himself, as he prefers "hands on control too much."
He did not detail why he expects stocks to plummet in his latest tweet. Earlier, however, he predicted that the US Federal Reserve would raise interest rates to rein in runaway prices, and warned that this in turn would cause stocks, bonds, real estate, and gold to crash.
He has so far been proven correct, as the country has faced its worst inflation in decades over the past several months, which prompted the Fed to implement a series of interest rate hikes. The rate is currently 5% to 5.25%, up from 0% in early 2022.
So far, US asset prices and economic growth have seemed resilient to higher borrowing costs. The benchmark S&P 500 index is up 17% so far this year, and the Nasdaq Composite has grown 35%, partly due to the surge in betting on artificial intelligence.
However, in a tweet last week, Kiyosaki claimed that the current growth in the stock market is not a sign of health, but the product of the suspension of the debt ceiling Washington passed last month to avoid a default.
"WHY is stock market taking off? Because 'Debt Ceiling' removed. Means national debt to rise with stock market. Rich get richer as America gets poorer. Sad. Sticking with real money & real assets: Gold, Silver, Bitcoin," he tweeted on July 14.
Total US debt now stands at over $32 trillion, and according to a recent warning from the Congressional Budget Office (CBO), it will nearly double over the next three decades, jumping from this year's estimate of 98% of GDP to 181% by 2053, unless the legislation is changed.
For more stories on economy & finance visit RT's business section
You can share this story on social media: