Millions of jobs at risk from AI 'revolution' – study
More than 25% of employees could be replaced, a report by OECD has claimed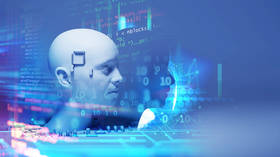 The artificial intelligence (AI) "revolution" could jeopardize more than a quarter of jobs in the 38-member Organization for Economic Co-operation and Development (OECD), the group warned in a report this week.
Jobs that could be replaced by AI make up 27% of the labor force in OECD countries, with Eastern European states most exposed to automation, the Paris-based organization said in its 2023 Employment Outlook.
The OECD is a 38-member bloc mainly made up of wealthy nations but also including emerging economies such as Mexico and Estonia.
Even though there are currently few signs that AI could cause significant disruption to the labor market, numerous jobs are already at risk because the "revolution" is in its early stages, according to the OECD.
Positions that could be displaced by automation were defined as using more than 25 of the 100 skills and abilities that AI could substitute.
"How AI will ultimately impact workers in the workplace and whether the benefits will outweigh the risks, will depend on the policy actions we take," OECD Secretary General Mathias Cormann was quoted by Reuters as saying.
"Governments must help workers to prepare for the changes and benefit from the opportunities AI will bring about," he added.
In March, Goldman Sachs predicted that generative AI such as ChatGPT could replace up to 300 million full-time jobs worldwide. The technology, which can independently create new material, represents "a major advancement with potentially large macroeconomic effects," the investment bank argued.
According to Goldman Sachs' estimates, roughly two-thirds of jobs in the US and Europe are exposed to "some degree of AI automation," while generative AI could be used as a substitute for a quarter of current jobs.
For more stories on economy & finance visit RT's business section
You can share this story on social media: