US firms revealed as largest tax contributors to Russia – Ukrainian study
American companies reportedly paid over $700 million into the sanctioned country's budget in 2022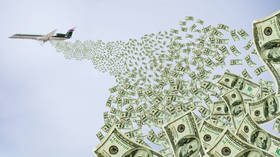 US companies paid more taxes in Russia last year than firms from any other foreign country, data from a joint study by B4Ukraine and the Kiev School of Economics (KSE) published earlier this week shows.
According to the findings, companies registered in America paid $712 million in taxes to the Russian budget in 2022. Data also shows that 44% of US firms that had a presence in Russia at the start of Moscow's military operation in Ukraine have so far continued to work in the country.
The second-largest tax contribution was made by German companies, at $402 million. Swiss companies came in third, with $275 million, followed by Japan and the UK. Businesses headquartered in the G7 and the EU were the largest taxpayers in Russia and made up 16 of its top 20 contributors, data shows.
Overall, according to the study, foreign corporations, including those that left Russia since last February, made more than $213.9 billion in revenue through their Russian businesses in 2022, including $14.1 billion in profits. They paid a total of $3.5 billion in taxes to the Russian budget.
The study found that companies that received the largest amount of revenue from their businesses in Russia were alcohol and tobacco producers, consumer goods manufacturers and car makers.
Many global firms have been forced to reevaluate their presence in the Russian market under pressure from Ukraine-related Western sanctions over the past year.
However, according to the most recent data from KSE, only 254 have so far finalized their exits from Russia – roughly 8% out of around 3,000 foreign companies that operated in the country prior to February 2022. Around 56% of those still working in Russia have not announced plans to divest.
For more stories on economy & finance visit RT's business section
You can share this story on social media: