Russia greenlights loan for power plant in EU state
The funds will go to the expansion of the Paks Nuclear Power Plant, which currently provides about half of Hungary's electricity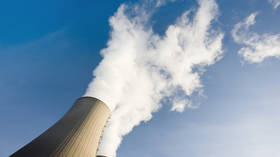 The Russian government has approved a state loan to finance the construction of two nuclear reactors for Hungary's Paks Nuclear Power Plant, known as the Paks-2 project, according to a decree published on the government's official portal for legal information on Saturday.
Under the decree, Moscow has pledged to allocate up to €10 billion ($10.2 billion) for the project, which is scheduled to launch in mid-2024. The loan is expected to finance the majority of the project, which in total is estimated at €12.5 billion.
According to the decree, the loan is free from taxes and is to be paid without "commissions, restrictions, deductions, exemptions, or compensatory withholdings."
Paks is Hungary's only nuclear power plant. Under the deal, which was signed in 2014, Russian state nuclear energy major Rosatom is to build power units 5 and 6 of the plant, with a capacity of 1.2 gigawatts each. The four existing reactors at Paks were brought online between 1982 and 1987, and produce about half of the country's electricity. With the new modern nuclear reactors, the authorities expect to double the plant's power output.
The Paks-2 project has been hit with long delays, but Budapest has already issued the license for the construction of the power units by Rosatom. It was also recently granted permission to amend its contract with Russia and include a project management company to speed up the construction process.
Russia's nuclear sector has so far not been targeted by the EU's Ukraine-related Western sanctions, and Hungary has repeatedly said it would veto any attempts to impose any such restrictions.
Rosatom accounted for 20 of the 53 nuclear reactors under construction globally in mid-2022, and has recently finished building Türkiye's first atomic power plant in Akkuyu. Russia is also providing fuel to several nuclear reactors in India and China, and building the first-ever nuclear power plant in Bangladesh.
For more stories on economy & finance visit RT's business section
You can share this story on social media: