Economic turmoil helping biggest firms make 'monster profits' – study
Extreme wealth and extreme poverty have increased simultaneously for the first time in 25 years, according to research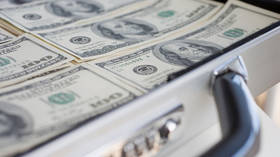 The world's 722 biggest companies collectively are making more than $1 trillion a year in windfall profits on the back of soaring energy prices and rising interest rates, according to research by development charities Oxfam and ActionAid.
Their analysis of Forbes' Global 2000 rankings showed the corporations made $1.09 trillion in windfall profits in 2021 and $1.1 trillion in 2022 - an 89% jump in total profits compared to average total profits in 2017-2020. The study, published on Thursday, defines windfall profits as those exceeding average profits in 2017-2020 by more than 10%.
It highlighted that 45 energy corporations made on average $237 billion a year in windfall profits over the past two years. There are now 96 energy billionaires with a combined wealth of nearly $432 billion, which is $50 billion more than in April 2022, it said.
Food and beverage corporations, banks, Big Pharma, major retailers, as well as aerospace and defense corporations have reportedly also cashed in on the cost-of-living crisis that placed more than a quarter of a billion people in 58 countries into acute food insecurity in 2022.
The report noted that, for the first time in 25 years, extreme wealth and extreme poverty have increased simultaneously. Huge corporate profits have coincided with the degradation of pay and conditions for workers.
"People are sick and tired of corporate greed. It's obscene that corporations have raked in billions of dollars in extraordinary windfall profits while people everywhere are struggling to afford enough food or basics like medicine and heating," said Oxfam International interim Executive Director Amitabh Behar.
"Big business is gaslighting us all —they're hiking prices to make monster profits, plundering people under the cover of a polycrisis," he added.
Corporate profiteering is playing a "significant role in supercharging inflation, echoing fears that corporations are exploiting the cost-of-living crisis to boost profits margins," a trend dubbed 'greedflation' and 'excuseflation,' the report stressed.
For more stories on economy & finance visit RT's business section
You can share this story on social media: