Russian economy recovering faster than we expected – Putin  
GDP is forecast to grow by more than 2% this year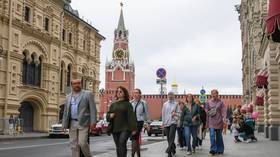 The state of the Russian economy is better than previously expected and will allow the country to meet all its goals, Russian President Vladimir Putin said on Wednesday.
"Our results, at least thus far, let's say cautiously, are better than expected, better than the forecasts. This gives us hope that all the tasks as we have set them, will be fulfilled," the president said during a meeting with Russian Prime Minister Mikhail Mishustin.
The government's responsible and balanced economic policy has made it possible to counter outside pressure, Mishustin reported, adding that the economy is now on course for recovery and continued growth. GDP rose by 0.5% in the first five months of this year, according to the prime minister, and is expected to grow by more than 2% by the end of the year.
He also highlighted growth in Russia's real wages, which jumped by 4.2% from January through April. Real wages in April were 10.4% higher compared to the same period a year ago, while nominal wages grew by 11.4% in the same period, said the prime minister.
Mishustin added that the government would continue working to reduce inflation, which stood at 3.4% at the beginning of June and is not expected to exceed an annual rate of 5%.
For more stories on economy & finance visit RT's business section
You can share this story on social media: