West's debt addiction could trigger new global financial crisis – Putin
Irresponsible economic policies by developed nations have increased tensions globally, the Russian president has claimed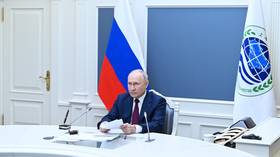 The uncontrolled accumulation of debt by Western countries is increasing the risk of a new global financial crisis, Russian President Vladimir Putin warned on Tuesday.
Addressing a virtual summit of the Shanghai Cooperation Organization (SCO) via videolink from Moscow, the Russian leader cited global threats that could increase "conflict potential" in the near future.
"The risks of a new global economic and financial crisis are rising against the background of the uncontrolled accumulation of debt in developed countries, social stratification and growing poverty around the world, and deteriorating food and environmental security," Putin stated.
He emphasized that each of these problems is "complex and diverse in its own way," but that when combined, they have fueled tensions around the world.
The 23rd SCO summit is being chaired by Indian Prime Minister Narendra Modi.
Last month, the executive director for Russia at the International Monetary Fund (IMF), Aleksey Mozhin, cautioned that Western economies are in critical condition due to high levels of public debt.
He accused wealthy states of implementing years of irresponsible budgetary and monetary policies, which eventually triggered the current debt crisis.
The UK and almost all EU countries are facing significant levels of debt, including France, Spain, Portugal, Greece, and Italy, according to Mozhin.
For more stories on economy & finance visit RT's business section
You can share this story on social media: