Germany forced to rely on imported electricity – Bild  
The country cannot meet its own needs in the aftermath of its nuclear phase-out, the outlet has claimed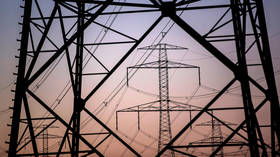 Germany has had to ramp up electricity imports in the first six months of the year, after the government decided to shut down the country's last remaining nuclear power plants in favor of renewable energy sources, the news outlet Bild reported on Monday.
From January 1 to June 12, the EU's largest economy relied on power supplies from neighboring countries, the outlet said, citing the cabinet's response to a parliamentary inquiry.
Germany can no longer meet its demand with domestically generated power, the report stated, due to a green energy policy "disaster" that saw nuclear plants closed in favour of renewables. Berlin now relies on imports of electricity produced at French atomic facilities and on supplies generated at coal plants in the Czech Republic.
"According to publicly available data, Germany has turned from an exporter of electricity into an importer. This is most likely due to the abandonment of nuclear power plants," energy expert Andre Tess told TASS news agency.
German industry executives earlier sounded the alarm over looming electricity shortages that could endanger the competitiveness of Germany as an industrial hub.
"As an industrial location, Germany has a serious problem. We don't have as much energy available as we need," the head of energy firm RWE, Markus Krebber, warned last month.
"This gap leads to high prices and thus to justified concerns about competitiveness," he said, adding: "we are seeing the first signs of de-industrialization."
Germany pledged to abandon nuclear power after Japan's 2011 Fukushima catastrophe. In April, Berlin shut down its last three nuclear power stations, ending a six-decade nuclear program in favor of fully renewable electricity generation by 2035.
The initial plan was to use more Russian gas during the transition period via the Nord Stream pipelines, which were built to deliver cheap fuel from Russia. Prior to the conflict in Ukraine, Germany met up to 40% of its demand with gas from the sanctioned country. However, the sabotage of the natural gas pipelines and Western penalties imposed on Moscow prompted Berlin to search for alternative supplies.
Last year, Berlin replaced some of its Russian gas with imports of LNG from the US and the Middle East. But economists have warned that it would take years for Germany to fully substitute Russian supplies with other sources of energy.
For more stories on economy & finance visit RT's business section
You can share this story on social media: