Ukraine could become world's first cashless economy – official  
Getting rid of coins and banknotes could help tackle corruption, the deputy head of Kiev's presidential office claims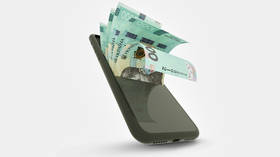 Ukraine is considering imposing a complete ban on the circulation of cash in the country in a bid to stamp out corruption, the Deputy Head of the Presidential Office, Rostyslav Shurma, revealed on Wednesday.
Speaking at the London Ukraine Recovery Conference, he said his government will present a roadmap on "whether we will do it or not." The politician expressed hope that "the decision will be 'yes'," adding that such a measure would help prevent bribery.
"These are very deep and serious discussions within our team, the prime minister and the president. We want to become the first totally cashless economy," Komsomolskaya Pravda in Ukraine quoted Shurma as saying.
The initiative could become a "very effective instrument for liquidation of 95-99% of all corruption cases" in Ukraine, according to the official.
Economists, however, have expressed doubts over the scheme. Ukrainian financial analyst Aleksey Kushch noted that a ban on legal tender would prompt a flow of the hryvna into dollars, triggering a collapse of the national currency. Moreover, he pointed out that hard cash becomes the only means of payment during power outages.
In Ukraine "people have been paying bribes through offshore companies for a long time, so cash has no effect on corruption," the head of the Ukrainian Analytical Center, Alexander Okhrimenko, argued. He claimed that Shurma was engaging in "meaningless publicity and just said something stupid."
According to the analyst, around 40% of settlements in Ukraine are currently conducted in cash.
For more stories on economy & finance visit RT's business section
You can share this story on social media: