Saudi Arabia set to cut oil supply to US – Bloomberg
The kingdom's steepest drop in production since 2011 would tighten Western markets, the news agency has predicted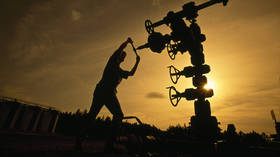 Saudi Arabia could slash oil exports to the US in July, which would result in the tightening of Western markets, Bloomberg reported on Monday.
The kingdom is set to unilaterally reduce its crude production next month by 1 million barrels per day (bpd), which equates to a 10% drop. The move would slash the country's total output to 9 million barrels a day, its lowest level since 2011.
After the production cut, Riyadh would have less than 6 million barrels for export, according to Bloomberg estimates. As a result, oil exports to Western countries could be affected more than shipments to Asia, Saudi Arabia's primary market, the outlet predicted.
"The bulk of that would go east of Suez, where Saudi Aramco, the state-controlled oil giant, has told several Asian refiners they would get as much crude as they requested. That means any cuts will be felt west of Suez: Europe and the US," the article stated.
Prioritizing supplies to its traditional Asian markets, Riyadh could reduce exports to the US to force a tightening of the market that would be evident in inventory reports, the outlet said. Aramco controls the largest refinery by capacity in the US, Motiva, and could influence supplies to the 630,000-bpd facility in Port Arthur as well, Bloomberg noted.
Although the US is now less dependent on Saudi crude, "it's probably the best chance Riyadh has to jump-start prices," the outlet claimed.
Production cuts could be extended beyond July, Saudi Energy Minister Prince Abdulaziz bin Salman has revealed. The potential move would add to voluntary cuts agreed between Riyadh and several large OPEC+ producers, including Russia, which came into effect in May.
The daily cuts of around 1.66 million barrels until the end of 2023 came on top of previous agreements, making the total OPEC+ output reduction 3.66 million barrels daily, or 3.7% of global oil demand.
For more stories on economy & finance visit RT's business section
You can share this story on social media: