Russian firms report revenues eight times nation's GDP
Energy returns and sharp fluctuations in the ruble have bolstered corporate profits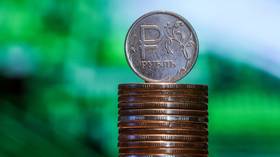 Revenues of Russian businesses almost doubled in 2022, and topped a quadrillion rubles (one followed by 15 zeroes) for the first time ever, business news website RBK reported on Tuesday, citing data from the Federal Tax Service.
Russian companies declared revenues of 1,268 trillion rubles (over $15 trillion), nearly double the amount recorded in 2021.
The dramatic increase is attributed mainly to the growth of export earnings, mainly in the oil and gas sector. The surge was also down to a recovery in consumer demand for goods and services.
Despite the two-fold increase in revenue, profits of the country's corporate sector rose only slightly, to $370 billion from $350 billion recorded in 2021, marking an increase of 5.9%. Taking into account average inflation of 13.8% recorded in 2022, profits actually declined.
The muted profits were attributed to a spike in costs due to sanctions imposed on Russia by Western countries over Moscow's military operation in Ukraine.
The ruble figure with 15 zeroes is unusual in Russian statistics. According to the Bank of Russia, the volume of non-cash transactions of Russian credit institutions reached almost 1.6 quadrillion rubles ($19 trillion) in 2022.
Last year, the country's nominal GDP amounted to $1.8 trillion. Thus, the declared revenue of Russian companies, according to the tax reporting, was nearly eight times the nation's GDP.
For more stories on economy & finance visit RT's business section
You can share this story on social media: