Now is the time to foster ties with Russia – prominent Indian entrepreneur
Sanctions have given Indian businesses a unique chance to enter the Russian market, says bespoke tailor Sammy Kotwani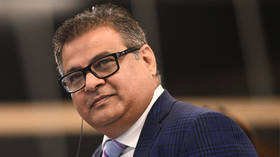 The sanctions against Russia and the subsequent exit of many western firms from the country has presented Indian businesses with the chance of a lifetime to enter and get established in the country's market, Sammy Kotwani of the Indian Business Alliance (IBA) told RT on Thursday.
India feels positive about boosting cooperation with Russia and the IBA wants small and medium-sized Indian businesses to come to the country, Kotwani said on the sidelines of the St. Petersburg International Economic Forum.
"This is the right time, the last time even, you'll never get this chance again to enter Russia," Kotwani said.
To facilitate the process, the Indian Business Alliance, the umbrella organization for all Indian companies in Russia, is developing a program to help small-time entrepreneurs enter the Russian market, according to Kotwani.
Apart from being the president of the IBA, Sammy Kotwani is the founder of "The Imperial Tailoring Co.," a Moscow-based company specializing in bespoke suits. It counts presidents, top officials, diplomats, and businessmen among its clients. He made a shirt for Indian Prime Minister Narendra Modi in 2008, when he was the chief minister of the Gujarat province.
Kotwani arrived in Russia in the 1990s, shortly after the collapse of the Soviet Union. He stayed in the country after the crisis of 1998, when the government defaulted on its domestic debt and the ruble was devalued, and also last year after the start of Russia's military operation in Ukraine. He navigated his business through all the crises and saw it grow each time, he says.
In his interview to RT, Kotwani also pointed to the current trend of switching to national currencies in trade, which has been gaining traction since Moscow was slapped with sanctions. India is on board with the development, and the process of mutual payments in Indian rupees and Russian rubles is being streamlined, Kotwani said, adding that the number of banks ready to process such transactions is on the rise.
For more stories on economy & finance visit RT's business section
You can share this story on social media: