Russia reveals plans for 'Suez Canal substitute'
Cargo flow via the North South Transport Corridor could triple in the coming years, the transport minister has said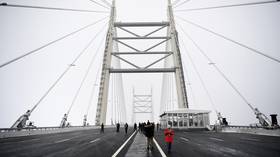 The volume of goods shipped via the International North South Transport Corridor (INSTC), touted as an alternative to the Suez Canal, could almost triple over the next seven years, Russian Transport Minister Vitaly Saveliev said at the St. Petersburg International Economic Forum (SPIEF) on Thursday.
The INSTC is a planned 7,200km multi-mode transit system that will connect ship, rail, and road routes for moving cargo between Russia, Iran, Azerbaijan, India, and Central Asia.
Construction on the project began in the early 2000s, but efforts to develop it have intensified after Western sanctions forced Moscow to shift its trade flows from Europe to Asia, Africa and the Middle East.
The total cargo flow along the INSTC was 14.5 million tons in 2022, and the projection for this year is 17.6 million tons, Saveliev explained. By 2030, the volume is expected to reach 41 million tons, he added.
Currently, only some sections of the route are operational, with Russia and Iran agreeing last month to build a railway line to incorporate into it. Moscow plans to invest more than $3 billion in the expansion of the project by 2030.
Russia has repeatedly said that the route could become a substitute for the Suez Canal, the 193km sea-level waterway in Egypt that connects the Mediterranean Sea to the Red Sea. The popular route between Europe and Asia sees about 12% of global trade pass through it each day.
In March 2021, the Suez Canal was blocked for six days by a container ship that run aground. The obstruction cost global trade an estimated $9 billion a day.
Trade via the INSTC is expected to allow companies to cut shipping costs by about 50% and save up to 20 days of travel time compared to the Suez Canal route.
For more stories on economy & finance visit RT's business section
You can share this story on social media: