Russia delivers surprise in millionaire outflow rating
A private wealth migration report shows that fewer millionaires than expected left Russia in 2022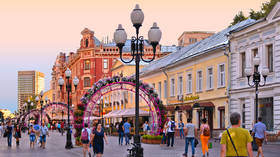 China and Russia were the two countries that saw the biggest millionaire outflow last year, according to a private wealth migration report released on Tuesday.
The leader, China, saw 10,800 high-net-worth individuals move abroad, while 8,500 millionaires left the runner-up Russia, said the London-based Henley & Partners, a firm specializing in residence and citizenship by investment. It defines millionaires or high-net-worth individuals as individuals with investable wealth of $1 million or more.
The number of millionaires leaving Russia turned out to be twice as low as Henley & Partners had expected. A year ago the firm said that the sanctioned country would top its millionaire outflow rating, predicting that 15,000 high-net-worth individuals, or 15% of Russia's wealthy, would relocate abroad in 2022.
According to the business daily Kommersant, Russia's lower-than-expected result could be attributed to the western sanctions against Moscow that made many investment-based citizenship and residency programs unavailable for Russians, as well as domestic restrictions that made relocation more difficult.
At the same time, according to Bloomberg, since the start of the military operation in Ukraine, Russia's billionaires continued to receive dividends, with more than $10 billion going to the top five super-rich. Due to the economic restrictions most of that money can only be reinvested within the country.
Among the most popular relocation destinations for millionaires, Henley & Partners named the United Arab Emirates, Australia, Singapore, Switzerland, and the US.
The firm predicts that in the current year, another 3,000 millionaires will leave Russia and the country will be in the fourth place in the millionaire outflow rating after China, India, and the UK.
For more stories on economy & finance visit RT's business section
You can share this story on social media: