Ice-cream production soars in Russia
Russians have consumed nearly 100,000 tons of the frozen dessert so far this year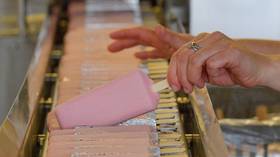 Ice-cream production in Russia surged 26% during the first five months of 2023 compared to the same period last year, according to data tracked by the Center for Research in Perspective Technologies (CRPT), as cited by TASS.
The watchdog operates Chestny Znak (Honest Sign), a system for tracking products in the supply chain.
In real terms, ice-cream output reportedly reached 214,700 tons from January through May, while consumption of the sweet frozen dessert reached 96,600 tons.
"As summer sets, demand has more than doubled, marking a growth of 154%," the CRPT said. "In January 2023, 12,700 tons were purchased, in May the figure surged to 32,300 tons."
The data tracked by the center also showed that ice-cream consumption in Russia amounted to 411,000 tons in 2022. Analysts added that peak production dropped in June and July, with monthly output hovering around 58,000 tons.
Moscow Region was among the country's ice-cream-loving hotspots, consuming 1.1 tons of the dessert during the first five months of this year. This was followed by Leningrad Region, where residents and visitors bought one ton of ice-cream during the same period.
There was no significant seasonal increase in the price of ice-cream in Russia, according to the data, rising by a modest 2%. In January, a kilogram of ice-cream cost 645 rubles ($7.80), while the same volume was priced at 660 rubles ($7.98) in May.
For more stories on economy & finance visit RT's business section
You can share this story on social media: