Central Bank predicts when Russian economy will return to 'pre-crisis' levels
The country's business activity is recovering faster than expected, the regulator says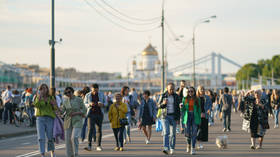 The Russian economy will fully recover next year from the slump brought on by Western sanctions, Bank of Russia (CBR) Governor Elvira Nabiullina said at a press-briefing on Friday, noting that many sectors of the country's economy are demonstrating steady growth.
According to official April statistics, business activity has grown across many key industries of the Russian economy, including manufacturing, construction, retail, services and public catering.
Nabiullina noted that the Business Climate Index calculated by the CBR based on the monitoring of companies is currently close to ten-year highs.
"Domestic tourism is becoming one of the new growth drivers in the changing conditions. Many regions have recorded an expansion in machine building. Siberia has built up output of non-ferrous metals and chemicals. Central Russia and the Urals have increased output of ferrous metals … Some other industries also report a rebound in output to the levels of late 2021," Nabiullina explained.
She stated that economic trends have been improving largely due to the recovery of domestic demand, which is quickly "substituting the share of exports in the structure of the economy."
"This is the key structural change. Considering the gradual substitution of external demand for domestic demand, we forecast that the economy will bounce back to its pre-crisis level next year," she predicted.
She reiterated the regulator's plans to bring inflation in the country back to its target level next year and to "maintain it at the target level further on."
"Considering the intensifying inflationary pressure, we admit the possibility that we might need to raise the key rate already at the next meetings in order to limit inflation. The percentage of a key rate increase will depend on how significantly incoming data will affect our estimate of the balance of risks to achieving the 4% target in 2024," she stated.
Meanwhile, the CBR on Friday kept its key rate unchanged for the sixth consecutive session, at 7.5% per annum, noting that the economic activity in the country is growing faster than it anticipated in its previous forecast. The regulator predicts the economy will grow by as much as 2% this year.
For more stories on economy & finance visit RT's business section
You can share this story on social media: