Russian energy project shakes off sanctions  
Exxon's exit disrupted production at the massive Sakhalin-1 oil and gas fields last year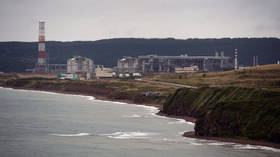 Oil and gas production at the Sakhalin-1 offshore project in Russia's Far East has recovered fully after a halt in output due to Exxon Mobil's exit from the venture last year, a local official announced on Tuesday.
According to Sakhalin Region Governor Valery Limarenko, the return to full production capacity at Salkhalin-1 has great importance for the region and its budget.
Limarenko highlighted the development of other energy projects in the region such as the exploration of the Yuzhno-Kirinskoye gas field, known as Sakhalin-3. The deposit, which comprises four blocks off the east coast of Sakhalin Island, is scheduled to be launched in 2025 with an initial gas production capacity of 5 billion cubic meters annually.
The official also spoke about the Sakhalin oil and gas industrial park, a development platform for services in the oil and gas industry that will be integrated with energy projects in Sakhalin Region. The industrial park is due to open in 2024, according to Limarenko.
"We invite companies from China and India to take part in projects of the energy complex. This is a good chance for them to fill the niche vacated by American and European companies in the oil and gas services market," the governor added.
India holds a 20% stake in Sakhalin-1 through its overseas investment arm ONGC Videsh, alongside Russia's Rosneft (20%) and Japan's Sodeco (30%).
Western sanctions disrupted production at the Sakhalin-1 oil and gas fields last year. ExxonMobil, its previous operator and the owner of a 30% stake, declared force majeure and exited the project.
Last October, Russian President Vladimir Putin disbanded Exxon Neftegaz as the operator of the project and transferred all of its assets and equipment to a new company managed by Rosneft subsidiary Sakhalinmorneftegaz-Shelf.
In May, Rosneft CEO Igor Sechin said that daily output at Sakhalin-1 had increased by 1.8 times in the first quarter of the year but stressed that the production stoppage has had a negative impact on the development of the field.
For more stories on economy & finance visit RT's business section
You can share this story on social media: