Russian nuclear giant looks to replace Western medical devices
Rosatom's new subdivision will manufacture titanium implants for orthopedics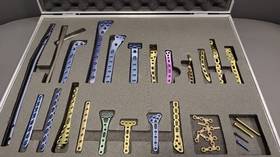 Russian state-owned nuclear energy corporation Rosatom has launched a new manufacturing branch that will produce titanium alloy implants for traumatology and orthopedics, the company's TVEL division announced on Tuesday.
TVEL incorporates a metallurgical subdivision, Rusatom Metalltech, which produces titanium, zirconium and other metals for high-technology products.
"We've established a new enterprise, LLC Rusatom Implantat, which will produce import-substituting titanium implants for osteosynthesis and intraosseous osteosynthesis," the statement said. Intraosseous osteosynthesis is the surgical management of bone fractures by the insertion of a fixing device, usually a titanium implant, into the affected area.
The new company aims to produce at least 140,000 titanium implants annually and meet at least one third of the demand on the Russian market. Its products will include plates for osteosynthesis of bone fragments, intramedullary pins for the treatment of bone fractures and surgical tools for their installation, extraction and replacement.
"The launch of our own complete production cycle of implantable products – from raw materials to finished goods – is the largest investment project of Rusatom Metalltech for the development of the medical industry in Russia. Our plant's capacity will meet at least 30% of the demand of the Russian healthcare market in high-quality medical implants for traumatology and orthopedics, and, in the future, it will completely replace imported medical products in this area," Rusatom Metalltech CEO Andrey Andrianov said.
The company is finalizing the necessary registration procedures in order to supply its products to Russian medical institutions, and plans to launch its products on the domestic market in late 2024.
"We expect [Rusatom Implantat] products to replace Western analogues in reconstructive surgery, which will ease consumer access to Russian high-tech medical care and boost its independence from market conditions," Vladislav Ovchinsky, the head of Moscow's Investment and Industrial Policy Department, told reporters.
The factory will be located within the Technopolis Moscow special economic zone.
For more stories on economy & finance visit RT's business section
You can share this story on social media: