Price of elite suburban real estate falls sharply in Moscow – study
Meanwhile, economy-class townhouses increased in value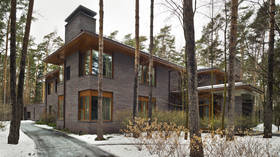 The price of elite suburban real estate in Moscow has nearly halved since last year, according to a study published on Thursday by INCOM-Nedvizhimost real estate agency.
Data shows that the median price for a luxury townhouse in the countryside near the capital has dropped by 45% year-on-year, from 131.6 million rubles ($1.6 million) to $890,000.
Elite houses currently make up only 3% of the housing demand in Moscow's suburbs, with the market dominated by requests for economy-class homes (78%). The average price tag for an economy-class suburban house jumped by 20% since last year, to $26,000 from $21,000.
INCOM analysts note that the price changes stem from the inner workings of the market and don't necessarily represent a trend.
"Relatively cheap prices go up, expensive prices go down – at first glance it might seem that these are suburban market trends, but that's not it. The changes in the average price are mechanical," explained Dmitry Taganov, head of INCOM's analytics department.
"Most of the cheapest residential allotments were bought out throughout the year, and the more expensive ones remained on the market, which increased the average price tag. The elite real estate on offer meanwhile is very limited – it was enough to sell a few more expensive lots and the average price decreased markedly," he added.
According to the company's data, residential allotments are the leaders in terms of demand in Moscow's suburbs, comprising 88.7% of requests. The average price of a land plot for residential construction dropped by 13% for the year, from $47,000 to $40,750.
Meanwhile, analysts note that overall sales in suburban real estate have largely dropped since 2022, with the number of townhouses and condominiums purchased during the year down by 22%, and the number of purchased residential allotments down by 6%.
For more stories on economy & finance visit RT's business section
You can share this story on social media: