Data reveals Germany has entered recession
Earlier estimates had predicted stagnation in the first quarter of this year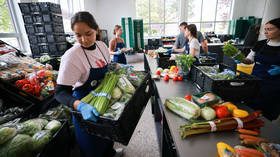 Germany's gross domestic product (GDP) has fallen for two consecutive quarters, figures released on Thursday by the Federal Statistical Office (Destatis) have shown, meaning that the country has entered recession.
First-quarter output dropped 0.3% from the previous three months, after a 0.5% decrease between October and December, Destatis said, noting that its initial estimate, released last month, was for stagnation, or 0% growth.
High inflation has persisted in what is Europe's biggest economy, forcing Germans to spend less, the statistics office explained. In January and February of this year the consumer price index stood at 8.7%, dropping slightly to 7.2% in April, the official data suggests. This is still well above the central bank's medium-term inflation target of 2%.
Energy and food prices in particular have shown above-average growth since the start of the conflict in Ukraine and have become the main contributors to Germay's high inflation rate, Destatis explains.
"The reluctance of households to buy was apparent in a variety of areas: households spent less on food and beverages, clothing and footwear, and on furnishings in the first quarter of 2023 than in the previous quarter," the release reads.
Chancellor Olaf Scholz in January ruled out a possible recession, despite the economic impact of Western sanctions on Russia.
"I'm absolutely convinced that this will not happen that we are going into a recession," he said in an interview to Bloomberg TV. "We showed that we are able to react to a very difficult situation."
Germany lagged behind other large EU member states and the EU as a whole in terms of economic development in the first quarter of this year. The EU overall registered growth of 0.2% between January and March.
The country's central bank the Bundesbank said on Wednesday that it was expecting the economy to grow "modestly" in the current quarter, thanks to a rebound in industry amid a backlog of orders and lower energy costs, which would offset stagnating household consumption.
For more stories on economy & finance visit RT's business section
You can share this story on social media: