Eurasian Economic Union strengthening despite Western pressure – Putin
The Russia-led free-trade bloc is striving for the stable economic development of its member states, the president said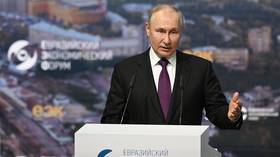 The role of the Russia-led Eurasian Economic Union (EEU) in the global arena and the integration of its member states are growing despite external pressure, Russian President Vladimir Putin said on Wednesday.
He was speaking at the plenary session of the second Eurasian Economic Forum (EEF) in Moscow. The event, which was attended by officials and businesses from Armenia, Belarus, Kazakhstan and Kyrgyzstan, will run through May 26.
"The numbers speak for themselves. Despite the large-scale crisis in the global economy and trade, considerable geopolitical risks and uncertainty, the combined GDP of the Eurasian [Economic] Union's states decreased by merely 1.6% in 2022," stated Putin, noting that some experts had predicted a completely different scenario.
He said forecasts of the Russian economy's collapse due to sweeping Western sanctions were inaccurate and, on the contrary, the country's sovereignty has been significantly enhanced.
The global financial sector has undergone significant changes, but Russia has adapted and is "becoming one of the leaders in these processes," Putin added.
Russia and its partners are interested in fair, efficient, pragmatic international collaboration, the president stated, while those who support a unipolar world are hurting the global economy. The US with its economic policy only ruins the country's own development as it "shoots itself in the leg," he added.
Putin also pointed to double standards in Ukrainian policy, arguing that – despite Kiev calling Russia an aggressor – it is "cashing in" on the transit of Russian energy resources.
For more stories on economy & finance visit RT's business section
You can share this story on social media: