Property boom taking hold in former Olympics host city
Newly-built housing costs in Sochi have soared nearly 190% since 2020, industry data shows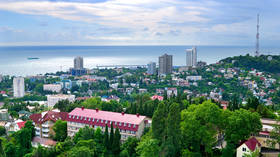 New home prices in Russia's largest resort city, Sochi, have risen threefold in the three years to April 2023, driven by strong investor demand, Kommersant business daily has reported.
Citing data by Nedvex Group, the outlet reports the average price for new real estate exceeded 445,000 rubles ($5,550) per square meter last month, compared to 154,600 rubles ($1,931) in April 2020, representing a 188% jump.
Sochi, which hosted the 2014 Winter Olympics, recently beat out New York and London in a list of the world's three cities with the most expensive luxury housing. According to estimates by the consulting company NF Group, 29 square meters (sq m) of prime property could be bought for $1 million in the Russian city in 2023, with the same budget buying 33 sq m in New York and 34 sq m in London.
According to Nedvex, 80% of real estate in the Black Sea resort city was initially bought by investors for the purpose of resale.
"Today, investors make their choice in favor of a business based on renting out housing. First of all, it's profitable. By purchasing an apartment with a mortgage and then renting it out, the client covers his monthly payment," said the owner of Nedvex Group Yulia Khludneva.
"Secondly, the yield from one elite-class property in Sochi can reach 18% per annum. Thirdly, by buying real estate in the resort, the client acquires a ready-made business that does not require any extra effort, whereas the hotelier manages the room, and the investor simply receives his income," she explained.
Kommersant noted that prices for resort real estate continue to grow.
Sochi's prosperity is remarkable considering the negative coverage the city received in the run-up to the 2014 Winter Games. Western news outlets and social media were filled with "hotel horror stories." A tweet by BBC journalist Steve Rosenberg showing a twin toilet in the men's bathroom at an Olympics venue went viral, sparking a wave of Sochi toilet humor. Growing international criticism of a new Russian law against 'gay propaganda' sparked ever-louder calls to boycott the Sochi Olympics, or to relocate the event to a country that was more amenable to gay rights. Despite all the controversy, the 2014 Olympics was one of the most successful ever, with the host city now reaping the rewards.
For more stories on economy & finance visit RT's business section
You can share this story on social media: