RFK Jr. to accept Bitcoin donations
The US Democratic Party candidate has hailed the cryptocurrency as a symbol of democracy and freedom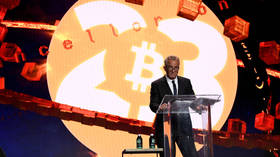 Robert F. Kennedy Jr. will become the first presidential candidate in US history to receive campaign contributions and donations in Bitcoin, according to an announcement on Friday.
Kennedy Jr. shared his own experience with the virtual currency, warning that the technology could enable government totalitarianism across the world. He pledged to protect the rights of Bitcoin users if elected.
"As president, I will make sure that your right to hold and use bitcoin is inviolable," Kennedy Jr. said at the Bitcoin 2023 conference. "I am an ardent defender and lifelong defender of civil liberties and Bitcoin is both an exercise and a guarantee of those freedoms."
Earlier this month, Kennedy Jr. stated that "crypto technologies are a major innovation engine," adding that the US is hobbling the industry and driving "innovation elsewhere."
Speaking at the conference, he vowed "to show the world the power and the durability and the flexibility of Bitcoin."
"Almost everyone in this room is aware of the link between Bitcoin and democracy and freedom," he said. "They're passionate because of the deep representation of a deep need that we have for liberty and democracy and the promise that this innovation has to guarantee those virtues."
The announcement comes against the backdrop of a tightening regulatory environment in the US, which is spreading uncertainty among players and harming an already battered industry, according to crypto analysts.
The Democratic candidate may not only target voters by publicly supporting Bitcoin, but is also likely to attract millions of dollars in donations.
Robert F. Kennedy Jr., the nephew of the 35th president, John F. Kennedy, is challenging the incumbent, Joe Biden, to become the Democratic Party candidate for the general election in November 2024.
For more stories on economy & finance visit RT's business section
You can share this story on social media: