China receives first yuan-settled LNG cargo  
A state-owned energy company imported 65,000 tons of supercooled natural gas from the UAE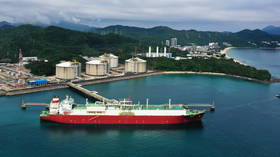 China has unloaded its first cross-border cargo of liquefied natural gas (LNG) settled in yuan, the state-owned China National Offshore Oil Corporation (CNOOC) announced on Tuesday.
The company said it purchased 65,000 tons of LNG from the United Arab Emirates (UAE).
The move is the latest sign of the yuan's growing presence on the international stage, as conditions for settling oil and gas trade in the Chinese currency become increasingly mature, CNOOC said. As part of its de-dollarization strategy, Beijing has been promoting settlements in currencies other than the US dollar and euro.
China's attempts to move away from the greenback in international trade have accelerated against the backdrop of sweeping sanctions imposed by Western nations against Russia, a major global energy producer and exporter.
Commodity trade between Russia and China has reached $88 billion in the past year, Reuters reported earlier this month. Almost all of Beijing's purchases of crude oil, gas, coal and certain metals from Moscow are now settled in yuan, the outlet noted.
China's commodity imports from Russia soared by 52% in value terms last year, with shipments of crude and fuel oil reaching $60.3 billion, Chinese customs data has shown.
"For now, and for the foreseeable next few years, I think the trade using RMB will predominantly be used for commodity and energy trade," predicted Chi Lo, senior investment strategist at BNP Paribas Asset Management.
"This is a very long-term development stretching into the coming one or two, even three decades" as more nations join the "RMB bloc" to reduce risks of dollar exposure, "especially after they've seen what the US-led sanctions against Russia have done," he added.
The proportion of Russian import settlements in yuan during 2022 surged to 23% from 4% the previous year.
For more stories on economy & finance visit RT's business section
You can share this story on social media: