Russians encouraged to ditch dollar for gold
The government had previously scrapped a tax on bullion purchases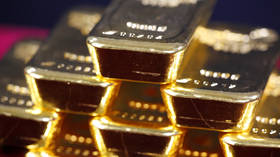 Gold ingots of up to 20 grams may now be purchased on the Moscow Mint website, the Goznak Joint Stock Company, which operates the mint, announced on Wednesday. The move is part of a broader agenda to encourage Russians to shift away from US dollar savings.
According to the company's statement, Russians are now able to buy, sell or store their purchased gold bars and coins.
Goznak is planning to make gold ingots weighing 50 grams available for purchase on its website, the company said, adding that the services will be accessible both in the trading salon of the Moscow Mint and through the Goznak.Investments app.
The storage period of ingots at the Moscow Mint is unlimited, while Goznak guarantees the buyback of all bullion in the mint's vaults. It will also accept ingots that have been in circulation if there is no visible damage on them or on the packaging.
From April 1, Russian precious metals refineries, Goznak, and the country's banks have been allowed to sell gold bars to individuals with no value added tax (VAT) applied.
Last March, Moscow scrapped its 20% VAT on individuals making physical gold trades, in an effort to draw people away from US dollar holdings, a common way in the past for Russians to protect their savings.
Previously, when buying physical gold, Russians had to pay 20% of the purchase in VAT. When selling the precious metal back to the bank, the paid tax was not returned to the investor.
As of November 2022, Russians purchased more than 50 tons of gold bars, ten times more than the previous recorded period. The most sought-after were one-kilogram bars, which accounted for about 60% of the total bought.
For more stories on economy & finance visit RT's business section
You can share this story on social media: