Baltic states race to disconnect from ex-Soviet power grid
The trio of nations are planning to become part of the Western electricity network by 2025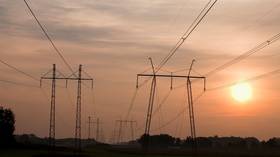 Estonia, Latvia, and Lithuania are aiming to speed up a long-standing plan to disconnect electricity supplies from a grid used by former Soviet states, Reuters reported on Friday.
The Baltic nations, which are all members of NATO and the EU, remain part of the BRELL circuit along with countries such as Russia and Belarus.
In 2018, they agreed to decouple from BRELL and join an alternative power grid, known as ENTSO-E, by late 2025, via a link with Poland. Founded in 2008, by an EU mandate, the network now extends beyond the bloc's borders to include 35 countries.
"We are all in agreement that we need to move as quickly as is feasible on the technical level," Latvian Prime Minister Krisjanis Karins was quoted as saying at a news conference in Tallinn with his Estonian and Lithuanian counterparts. "Certainly, the political will and determination are there from all of us," he added.
According to Reuters, Lithuania already no longer buys electricity from Russia and successfully tested its ability to cut itself off from the eastern grid in April. It had said it would decide by August 6 whether to quit BRELL unilaterally. The country's energy officials claim this could happen as early as 2024
"We cannot ignore even the slightest possibility that Russia could exploit our dependence on its electricity networks at the most critical moment," Lithuanian Prime Minister Ingrida Simonyte was quoted as saying.
The Baltic states have claimed that dependency on the Moscow-controlled BRELL network creates a potential threat if Russia 'weaponizes' its electricity supply and disconnects them from the network ahead of the planned exit.
Reuters reported last June that European grid operators had expressed readiness to bring the Baltic nations into ENTSO-E at short notice in the event that Moscow cuts them off.
For more stories on economy & finance visit RT's business section
You can share this story on social media: