Russia reveals larger-than-expected budget deficit
The gap has widened so far this year although recent trends have indicated stabilization, the Finance Ministry has said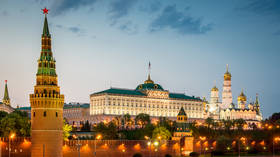 Russia's budget deficit surged in the first four months of the year, surpassing the government's full-year target as energy revenues dropped under pressure from Western sanctions, the Finance Ministry reported on Wednesday.

The budget gap rose to 3.42 trillion rubles ($45 billion) in January-April, exceeding the planned figure of 2.9 trillion ($37.7 billion), according to the ministry. Revenues fell by 22% to 7.8 trillion rubles ($101 billion), while spending increased by 26% to 11.2 trillion rubles ($145.6 billion) compared to the same period last year.

Russia's oil and gas revenues dropped 52% to 2.3 trillion rubles ($30 billion) between January and April, while non-energy revenues increased by 5% to 5.5 trillion rubles ($72 billion).

"The big question we can't answer yet is what will happen to expenditures in the rest of the year," said Renaissance Capital economist Sofya Donets. "What happened with revenues, both energy and non-energy, was to be expected."
At the same time, the Finance Ministry noted that federal revenues showed signs of stabilization in April. Kremlin spokesperson Dmitry Peskov dismissed concerns over a widened budget gap and pointed to "good macroeconomic indicators." He added that "the situation is absolutely under control and there is a necessary safety cushion."

The ministry previously predicted that a change in taxation in the wake of an oil price cap imposed by the G7 countries and the EU on Russian energy exports would help earnings recover later this year.

The budget deficit will return to a surplus by the end of the year, according to presidential economic aide Maksim Oreshkin.
For more stories on economy & finance visit RT's business section
You can share this story on social media: