World food prices rising again – UN
The index of global food costs rose in April for the first time in a year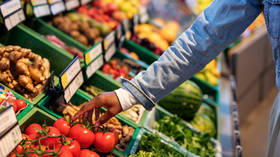 The Food and Agriculture Organization (FAO) of the United Nations reported on Friday that global food prices grew in April for the first time in a year.
The price index, which tracks the most globally traded food commodities, averaged 127.2 points last month, compared to 126.5 for March.
"The slight rebound in the FFPI (FAO Food Price Index) in April was led by a steep increase in the sugar price index, along with an upturn in the meat price index, while the cereals, dairy and vegetable oil price indices continued to drop," the FAO said.
According to the report, the sugar price index soared 17.6% from March, hitting its highest level since October 2011. The rise was reportedly linked to concerns over tighter supplies following downward revisions to production forecasts for India and China, along with lower-than-expected output in Thailand and the European Union.
The meat price index was up 1.3% from March, while dairy prices fell 1.7%. Vegetable oil prices were also down 1.3%, marking the fifth consecutive monthly decline.
The cereal price index dropped 1.7%, with a decline in world prices of all major grains outweighing an increase in rice prices.
"The increase in rice prices is extremely worrisome and it is essential that the Black Sea initiative is renewed to avoid any other spikes in wheat and maize," said FAO Chief Economist Maximo Torero.
The FAO report indicated that international wheat prices declined by 2.3% in April to their lowest level since July 2021, principally driven by large exportable availabilities in Russia and Australia.
According to the UN body, favorable crop conditions in Europe, along with an agreement at the end of April allowing Ukrainian grains to transit through European Union countries that had imposed import restrictions earlier in the month, also contributed to the "overall softer tone in markets."
Meanwhile, Torero projected that as global economies "recover from significant slowdowns, demand will increase, exerting upward pressure on food prices."
For more stories on economy & finance visit RT's business section
You can share this story on social media: